San Antonio, Texas – December 13, 2022. Kinetech Cloud has been selected for the 2022 Best of San Antonio Award in the Software Company category by the San Antonio Award Program.
Kinetech was selected because of their leadership in low-code an emerging industry tend that allows organizations to design, develop, and deploy applications 6-10x faster than standard practices. In fact, Kinetech is the ONLY Siemens certified Low-code Expert in the United States.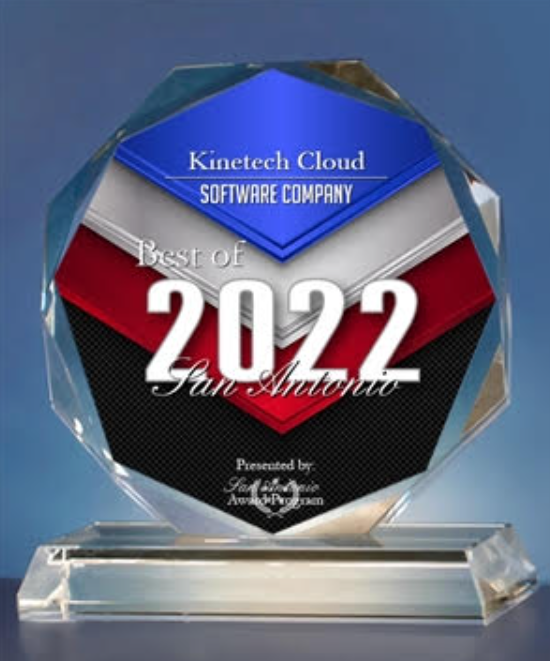 Each year, the San Antonio Award Program identifies companies that we believe have achieved exceptional success in their local community and business category. These are local companies that enhance the positive image of business through service to their customers and our community. These exceptional companies help make the San Antonio area a great place to live, work, and play.
Various sources of information were gathered and analyzed to choose the winners in each category. The 2022 San Antonio Award Program focuses on quality, not quantity. Winners are determined based on the information gathered both internally by the San Antonio Award Program and data provided by third parties.
Getting Started with Low-Code
Don't take our word for it though, try Kinetech out! Low-code solutions are not cost-prohibitive to implement so the best way to see if we are right is to implement your first one. To learn more about low-code solutions for your industry or to talk to an expert about your specific needs, call: +1 832 426 2000 or visit kinetechcloud.com.
About Kinetech
Kinetech is a platinum Mendix partner and low-code pioneer. Kinetech provides low-code enablement services and custom enterprise software, delivered through the cloud with a focus on improved business productivity. The company uses low-code to deliver cloud, mobile, and integrated technologies that solve real government technology problems.
Together, Kinetech & Mendix provide citizen-centric software for digital government services. Our offerings are available under DIR-CPO-4735. The company delivers its offerings via internet browsers and on mobile devices. Kinetech designs, builds, and supports mission-critical applications, client/vendor portals, and modernizes legacy systems. Its cloud offerings include the FinTech Cloud (Financial Services), GovTech (Government Technology) Cloud, and other bespoke solutions (Enterprise Cloud).
About Award Program
The San Antonio Award Program is an annual awards program honoring the achievements and accomplishments of local businesses throughout the San Antonio area. Recognition is given to those companies that have shown the ability to use their best practices and implemented programs to generate competitive advantages and long-term value.
The San Antonio Award Program was established to recognize the best of local businesses in our community. Our organization works exclusively with local business owners, trade groups, professional associations and other business advertising and marketing groups. Our mission is to recognize the small business community's contributions to the U.S. economy.
SOURCE: San Antonio Award Program

CONTACT:
San Antonio Award Program
Email: PublicRelations@regional-honor.com
URL: http://www.regional-honor.com