Rapid globalization continues to put pressure on businesses as the internet allows customers to educate themselves pre-purchase. E-commerce & Amazon allows competitors a virtually global reach.
Cloud technology offers numerous opportunities for incumbent businesses and newcomers alike to separate themselves from the competition, but only when they dare to be different and adopt a Bi-Modal approach to their IT solutions. While the tried and true software development lifecycle (SDLC) methodology is appropriate for systems of record (HR, Accounting, etc), an Agile approach is required for truly - innovative business applications.
Challenge:
As an executive, you are constantly in the position of making tradeoffs between business as usual updates versus investing in strategic initiatives to differentiate your business. At Kinetech we call this "building the plane while flying it"; and the struggle is real. In a perfect world businesses would have enough capacity to both improve underlying foundations while scaling the business for growth, but reality is typically a far cry from this ideal. The challenge can be summed up in the graphic below, where IT resources are struggling with a hefty backlog, while the business wants to continue to innovate.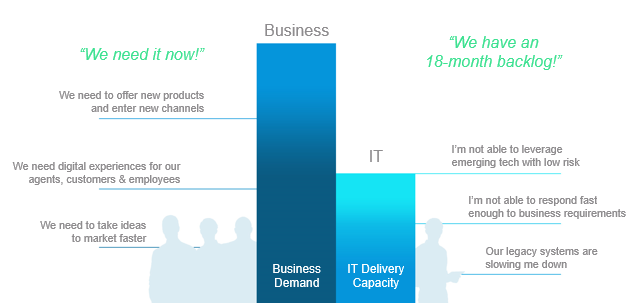 Business wants to innovate while IT has to keep the lights on. Image courtesy of Mendix.
Systems of Record Require a Mode 1 Approach:
Intuitively, your business exists because it provides a good or service to the market that is different from the competition and valued by your customers. For standard processes like HR, finance, and marketing, do not try to reinvent the wheel. If you have a process and technology in place that works, stick with it, as these functions very rarely differentiate your business. If these are areas of your business that have been neglected (i.e. require significant manual effort), a SaaS solution may be more cost-effective.
The technologies that support the back office operations of your business should be part of your "Mode 1" digital strategy. Development should follow the waterfall (or V-model) methodology: plan, analyze, design, build, test, and deploy. Changes should be thoroughly tested and releases diligently planned- remember, these are your systems of record. If you intend to leverage existing IT investments, you might find When Software Integration Makes Sense for your Business worth a read.
Closing the IT-Backlog Gap requires Adopting a New Approach:
To create new innovations and "wow" your customers (or internal stakeholders), a distinct Mode 2 or agile approach to rapid innovation is required. Rapid application development can be built with in-house capabilities or accomplished through strategic partnerships with end-to-end custom software solution providers.
Waterfall or the standard software development lifecycle (SDLC) is appropriate for Mode 1 technology like HCM, CRM, and accounting, but an Agile approach is required for Mode 2 - innovative business applications.
Regardless of which approach you take (partnership vs. in-house), it is critical to explicitly define your projects. By clearly delineating systems of record (Mode 1) and strategic innovation / differentiation projects (Mode 2), you can clearly set project expectations which will pave the way to success. For more on how to effectively plan for your strategic and run the business initiatives, checkout this Whitepaper on Project Management.
The diagram below visually communicates the difference between Mode 1 and Mode 2 projects.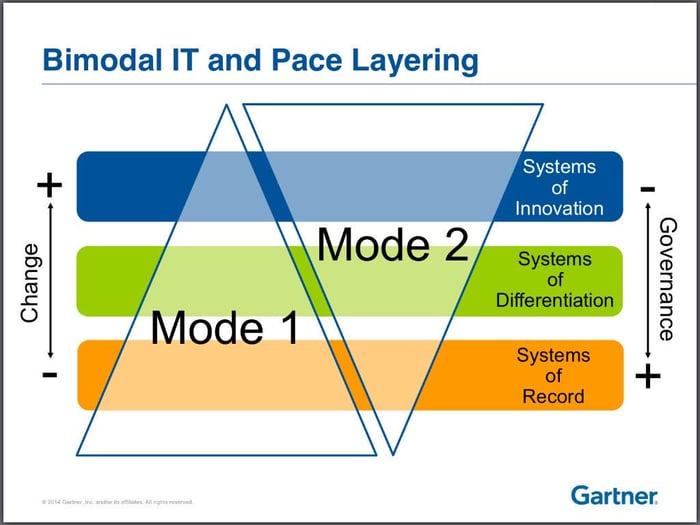 Visual interpretation of Bimodal IT - image credit Gartner
Differentiating your business with Custom Software.
For standard processes (HR, finance, accounting), implementing standard IT-solutions will not give you a meaningful competitive advantage - it will simply keep you on-pace with your peers. Conversely, custom software solutions that reinforce unique processes, enable new services, or deepen the connection with your clients will further differentiate your company from the pack. Because these solutions are custom, they cannot be easily replicated - just like your business model. Businesses that create and execute Bimodal IT strategies effectively are more likely to gain market share, acquire customers, and yield higher levels of profitability while laggards will continue to shrink under intensifying market pressure.