Lansing, Michigan - March 2021. Updated April 2023.
To date, Kinetech has assisted Michigan in distributing almost $1 billion USD.
The State of Michigan and Kinetech have reached an agreement to run the State of Michigan's Covid Emergency Rental Assistance (CERA) program leveraging Kinetech's GovTech Cloud. The system will be available to all residents and landlords in Michigan who have faced economic hardship caused by the pandemic. Residents of Michigan who think meet CERA program requirements may apply now at:
Read more about the official program here:
Tenants and landlords may read about program eligibility or contact their local Housing Assessment & Resource Agency (HARA).
Kinetech was selected because of our enterprise GovTech solution, proven approach, and accelerated time to value. The CERA program is tasked with distributing $660 Million in funds before the end of the calendar year, and 65% of the funds by September 30th 2021. To address the challenge, Kinetech has deployed a device agnostic, mobile-first web scale solution that intuitively guides applicants through the application process.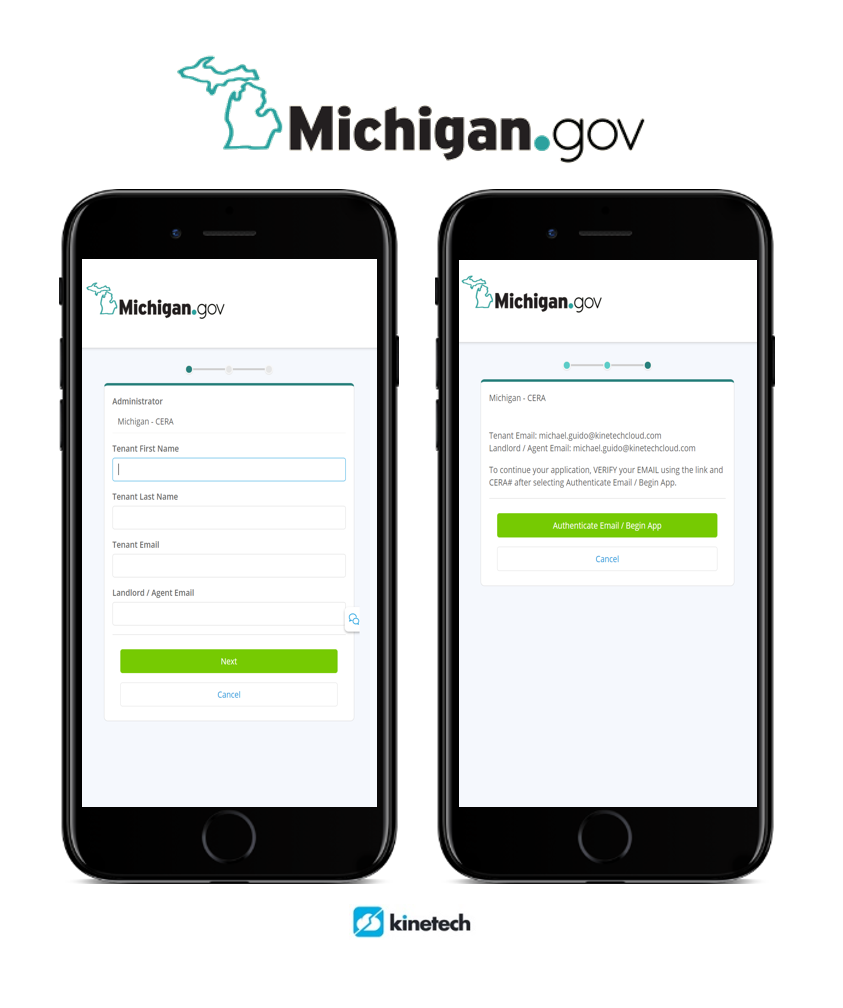 Applicants or landlords kickoff the application by providing the tenants name, email and the landlord / contacts email using the screens above.
After multi-factor authenticating, applicants may complete a checklist of items that will assist the State of Michigan and their associated Housing Assessment & Resource Agencies (HARA).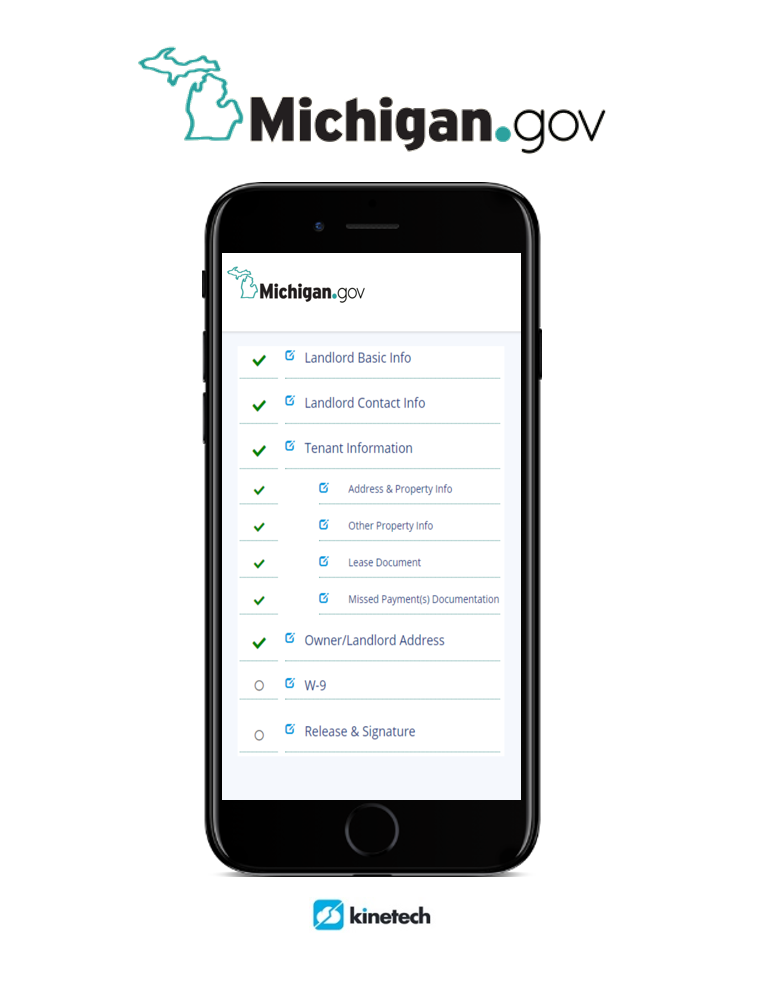 Kinetech's GovTech solution configured for the State of Michigan's CERA requirements.
"We are excited to partner with the Michigan State Housing Development Authority (MSHDA) and the Department of Technology Management & Budget (DTMB) to deploy the Kinetech GovTech solution to rapidly address the needs of Michigan's most vulnerable residents (those living within 80% of the Area Median Income (AMI)."
- Michael Guido, CEO of Kinetech
Extended Purchasing Program & Contract / Ride-Along:
For other states, municipalities, and agencies interested in digitizing their process, this contract contains a "ride along clause" permitting comparable use via clause 43. Extended Purchasing Program.
43.1 Upon written agreement between the State and Contractor, this contract may also be extended to:
(a) other states (including governmental subdivisions and authorized entities);
For more information about leveraging this contract for your organization, please contact Kinetech directly at: (844) 546-3832 or https://www.kinetechcloud.com/contact/
Data & Privacy:
This application is hosted on the AWS Cloud. All data is geographically located in the continental United States. All data is owned by the State of Michigan and will be retained for a minimum of 5 years. Data will only be shared with Housing Assessment & Resource Agencies (HARA) partners to determine there is no duplication of benefits. Any personal identifiable information (PII) will be encrypted using industry standard AES encryption. All applicants and case workers must Multi-Factor Authenticate (MFA) using a valid email address. The application is inaccessible if your device cannot establish a secure HTTPS / SSL connection.
About the MSHDA / CERA:
The Michigan State Housing Development Authority (MSHDA) will administer the COVID Emergency Rental Assistance (CERA) Program through its network of local nonprofit Housing Assessment & Resource Agencies (HARA) partners starting March 15, 2021. CERA can provide rental and utility assistance for eligible renter households so that they retain their housing stability.
About GovTech:
The GovTech Cloud is a government's innovation engine. Using Kinetech's lowcode templates, any paper-based process can be digitized to support document upload, case management, automated notifications, reporting and analytics. Get your organization communicating with a single point of record. Deploy agile, secure, government specific technology cost effectively using the cloud. Improve the digital services provided to citizens through intuitive, always on solutions. Uncover trends with rich analytics. Typical use cases include Housing, Rental, Utility, Mortgage, and Internet Assistance.
About Kinetech:
Kinetech, a platform Mendix partner, is a provider of custom enterprise software, delivered through the cloud with a focus on improved business productivity. The company focuses on cloud, mobile, and integrated technologies that solve real client problems. Kinetech's service offerings are configured and integrated with other web services (APIs), platforms, and enterprise applications (CRM, ERP, HCM). The company delivers its offerings via internet browsers and on mobile devices. Kinetech designs, builds, and supports mission-critical applications, client/vendor portals, and modernizes legacy systems. Its cloud offerings include Digital Factory (Manufacturing), Kinetech PM (Construction / Project Management), GovTech (Government Technology) Cloud, and other bespoke solutions (Enterprise Cloud).