During the first two months of the COVID crisis in America, the city of San Antonio Texas was facing a crushing demand of public assistance applications. Faced with a manual process and suddenly working from home, combined with a recently approved $50 million increase in relief funding that needed to be distributed, city administrators needed help.
Luckily, San Antonio had worked with an enterprise Government Technology (GovTech) provider, Kinetech, a year prior on developing a mobile-first solution for utility assistance. They knew Kinetech's technology was easy to configure and did not require any major changes to the cities existing databases or underlying processing.
Instead, it simply fed data into the existing systems, and added screening and other security features to help validate eligibility. Applicants apply with their mobile devices and the city processes the submissions with their existing funding and machines. Best of all, for every application submitted by phone, hours of transcription work for the equivalent paper application were eliminated.
The App Goes into Action in Less Than Two Weeks
In under 12 days, the City of San Antonio and Kinetech were able to a get a production ready application out to city citizens. The solution is accessible via any internet-connected device (iPhone, Android, laptop, etc).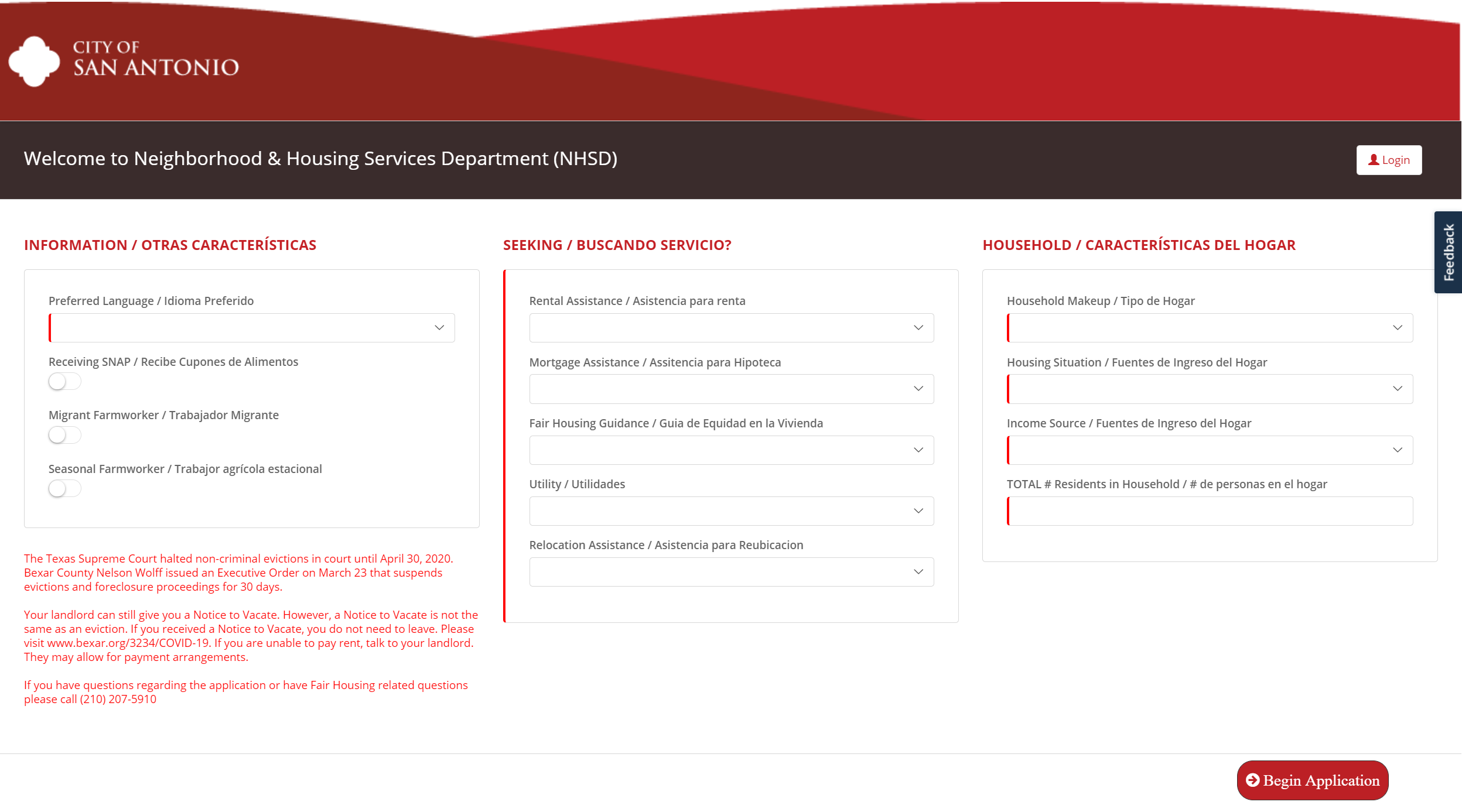 Screenshot of the City of San Antonio's new streamlined online applications
The new application brings the entire process online for rental, mortgage, utility, and relocation assistance, replacing a time-consuming manual process. Less than a day after deployment, residents initiated over 1,100 applications via the new app; during peak demand, the application has handled intake of more than 3,000 applications in a single day.
The city has already committed $16 million of the initial $25 million allocated for relief. Because the city received additional federal funding, the City of San Antonio's Neighborhood & Housing Services Department (NHSD) will process, approve, and distribute an additional $25 million in emergency assistance via the new app, bringing the total to over $50 million dollars.
"As we faced a global pandemic and the increasing volume of applications for housing assistance, we knew that there was a better way to keep up with the demand of processing applications," said Edward Gonzales, assistant director for the City of San Antonio's Neighborhood & Housing Services Department.
Within 12 days, the two-person development team built the new application and successfully deployed it. In less than a week, more than $2.2 million in assistance was requested. With the help of Kinetech's GovTech solution, our process is now fully digital, and our case workers can quickly provide feedback and help prevent residents from becoming homeless.
Enabling Social Distancing and Helping Those Without Transportation
Without the app, applicants and city case workers would have had to put themselves at risk to submit applications in person. The manual process required caseworkers to individually contact each applicant, determine eligibility, issue the application, then process it once the applicant returned it with supporting documentation, which often presented a challenge. With the app, everything, including supporting documentation, could be submitted through a phone.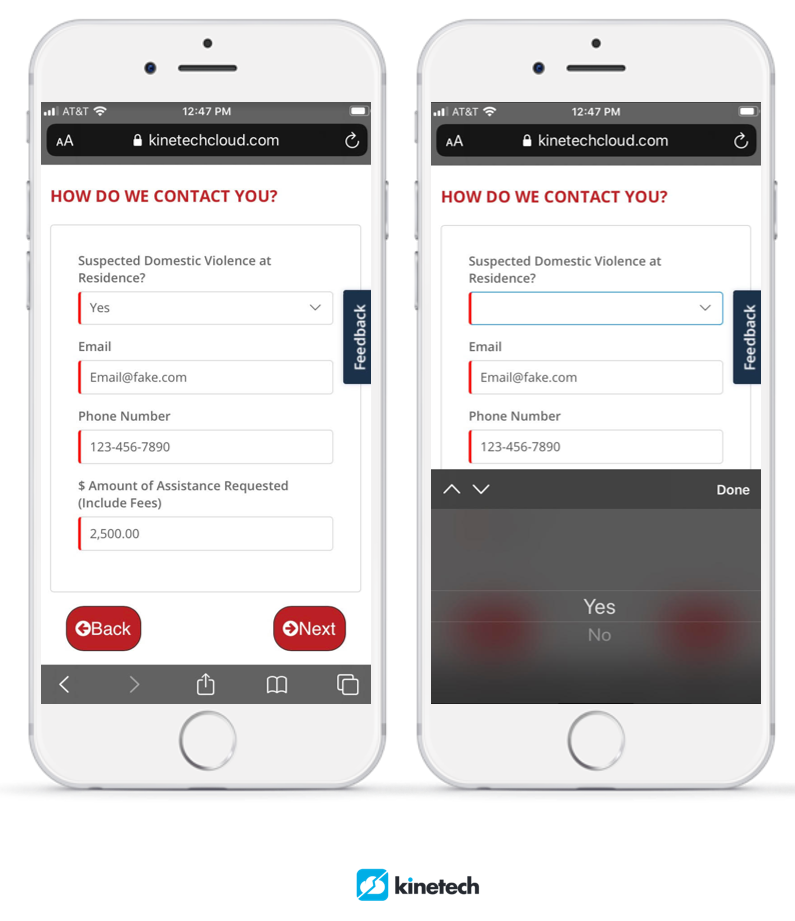 The new applications are easy to use on mobile phones enabling social distancing and reaching a broader swath of citizens
In addition, eligible applicants fall within 125% of the federal poverty line and 80% of the average median income (AMI) and do not always have access to personal transport or printers / photocopiers to submit required documentation. The new solution addresses this by allowing applicants to submit photos using their personal devices (over secure and encrypted connections) eliminating the cost of printing supporting documentation (utility bills, lease agreements, government IDs, etc) using the device's built in camera.
The app San Antonio deployed with the expertise of Kinetech is called a "low-code" solution because it does not require a major programming infrastructure development but simply works with existing systems.
"Everything we have done with low-code solutions has delivered on the promise. As opportunities for digital platforms arise, we lean toward the low-code platforms. Part of it is planning for the workforce of the future – we need to pivot the tools we use to make ourselves relevant for new generations of developers and the tools and delivery methods they understand."
- Kevin Goodwin, CTO -
City of San Antonio.
The Easiest Way to Modernize Your Process and Decrease Your Departments Workload
With a full solution possible in a matter of weeks, organizations may quickly implement a low-code app solution that is easy to use, improves personalized service, and nearly doubles throughput. San Antonio saw a 70% increase in applications processed in the months after implementing theirs.
This approach provides several other key benefits:
Digital allows email notifications or text (SMS) to be sent throughout submission and review process for better customer service, which also helps reduce incoming call volume
Multi-lingual (English, Spanish and More) are available to help diverse populations apply for service in their native language thereby communicating more effectively with your department
Standardized reporting is compliant with federal mandates and makes data easier to compile
Compliance for grant funding requirements (CARES Act, CBDG, LiHEAP, etc.) is easier to verify and enforce and eligibility can be checked as applicants are submitting information
Does not require you to hire any additional support staff and reduces the workload on existing staff by up to 70%
Improves public relations by getting the applications in people's hands faster and making them easy to process
Quickly digitizes your process (away from paper) for the 21st century
Try the App
If you want to try this application out, Kinetech is offering a free license to public administrators right now. You can also contact us here or read our guide on three simple ways to speed up application processing.