The US Bureau of Labor Statics (BLS) recently released the percent change in goods and services in the USA measured against the reported consumer price index (CPI) for the past 20 years.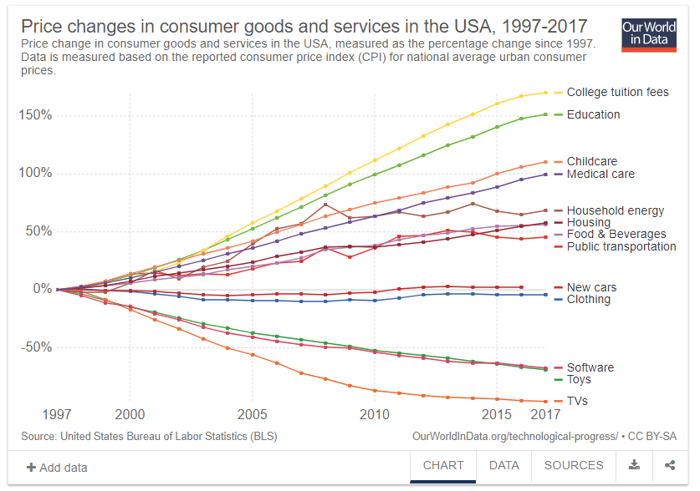 Price Changes in Consumer Goods & Services in USA, 1997 - 2017. Source: https://ourworldindata.org/grapher/price-changes-in-consumer-goods-and-services-in-the-usa-1997-2017
For business executives looking to differentiate their business and government leaders interested in digital transformation, the most exciting development of the last 20 years is the nearly 70% decrease in software. Read - Why Cities Must Invest in GovTech.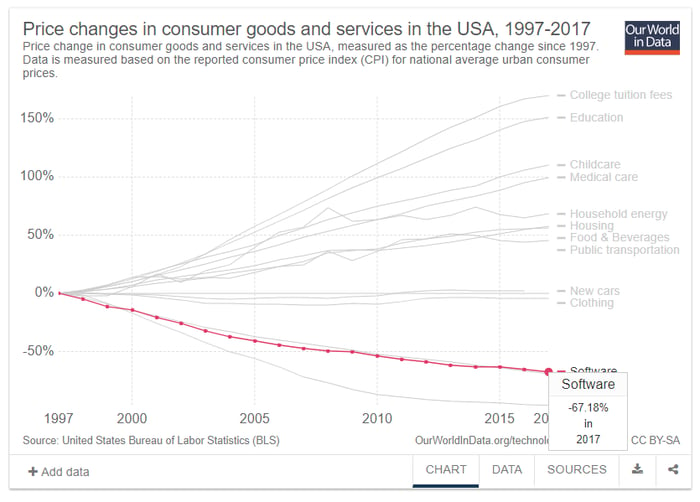 Moore's law is a big contributor to these price reductions as are advancements in cloud computing. Simultaneously, agile development has evolved to address issues that arise from the V-Model for software development. Click here to learn more about Agile Development in Practice.
Cloud technology offers numerous opportunities for incumbent businesses and governments alike to separate themselves from the competition, but only when they dare to be different and adopt a Bi-Modal approach to their IT solutions. While the tried and true software development life-cycle (SDLC) methodology is appropriate for systems of record (HR, Accounting, etc), an Agile approach is required for truly - innovative applications.
Businesses that create and execute Bimodal IT strategies effectively are more likely to gain market share, acquire customers, and yield higher levels of profitability while laggards will continue to shrink under intensifying market pressure. Gartner predicts that market demand for application development will grow at least five times faster than IT capacity to deliver it.
Through 2021, market demand for app development will grow at least 5x faster than IT capacity to deliver it.

- Gartner, Research Report
Agile development, strategic partnerships, and software development platforms offer opportunities for executives willing to think differently. Do you have a strategy to take advantage of the 67% price decrease since 1997 and address this productivity gap?