McLennan County / Waco, Texas - March 3rd, 2021
During the first two months of 2021 McLennan County was concerned with a rising demand for rental assistance applications. Faced with a manual process and combined with a recently approved increase in relief funding that needed to be distributed, county administrators needed a better way.
To add additional complexity, with the passage of HR 133, the treasury department may examine a grantees performance to confirm at least 65% of the funds have been obligated. Failure to demonstrate significant progress in distributing funds could result in losing the remaining 35% of funds allocated.
Fortunately, McLennan learned of Kinetech's enterprise Government Technology (GovTech).
Highlights:
McLennan County selected Kinetech's GovTech SaaS Cloud to Digitize Covid Emergency Housing Assistance program
Kinetech launches solution in 10 business days using GovTech, lowcode, and a proven Digital Execution Strategy
Mobile-first solution allows applicants to upload documents via device camera and submit directly to McLennan
Automated notifications bridge communication gaps between the landlord, the tenant / applicant, and the county to collect missing information, handle case management, and process payments to avoid eviction and prevent homelessness
The cloud-native solution is available nearly 24/7 vs. government office hours removing friction in the application process.
Kinetech announces General Availability of GovTech Cloud to North American partners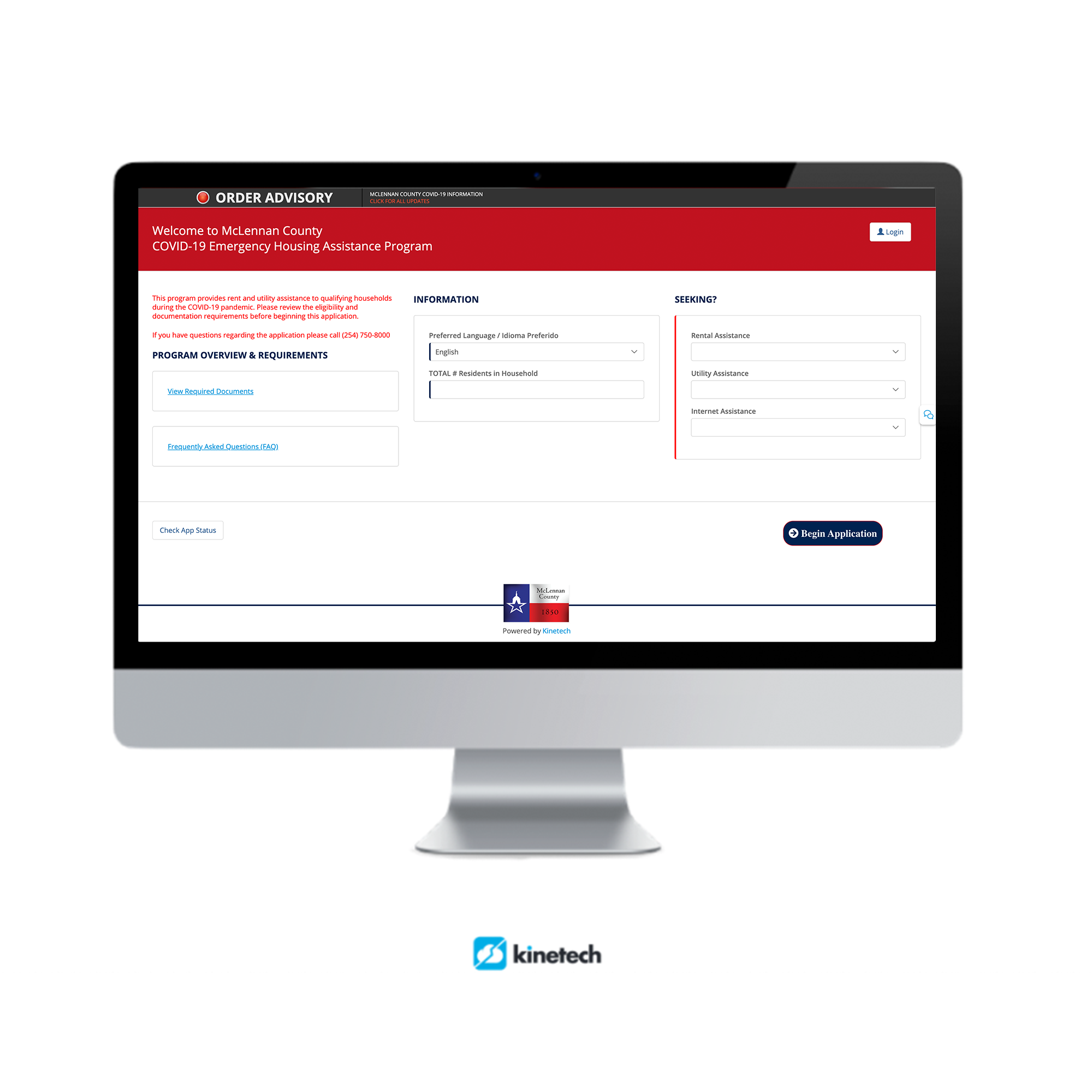 McLennan knew Kinetech's technology was built on lowcode and thus easy to configure. The system did not require any changes to the existing databases or underlying processing. Instead, it simply fed data into the existing systems, and added screening and other security features to help validate eligibility. Applicants apply with their mobile devices and the city processes the submissions with their existing funding and machines. Best of all, for every application submitted by phone, hours of transcription work for the equivalent paper application were eliminated.
The App Goes into Action in Less Than Two Weeks:
In 10 business days, McLennan County and Kinetech were able to get a production ready application out to county citizens. The solution is accessible via any internet-connected device (iPhone, Android, laptop, etc). The service is available to county residents that are financially impacted by COVID and complete all eligibility requirements.
Applications may be completed using a smartphone or PC.
Users must have all required documentation to begin.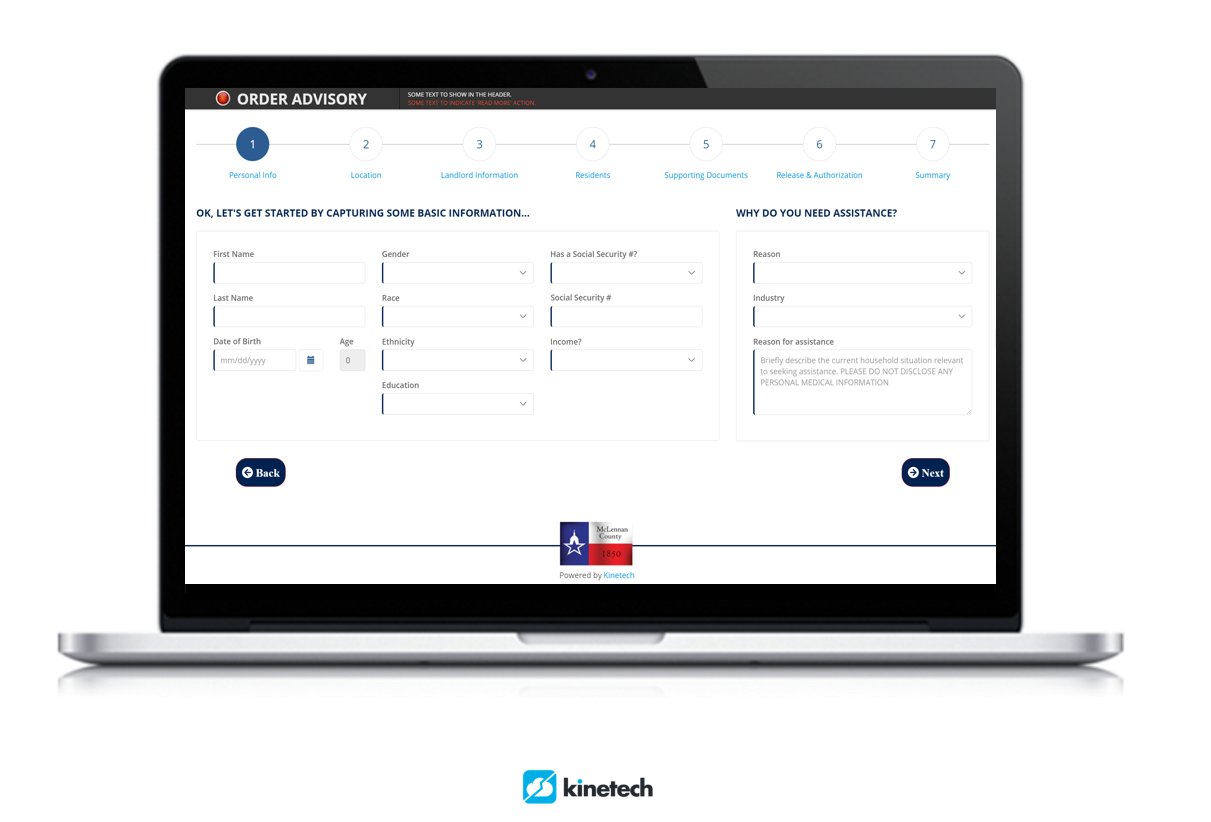 The launch by McLennan county coincides with the general availability of the GovTech Cloud to North American customers. McLennan's GovTech solution was launched the Monday following the devastating winter storm that left 3-5 million without access to power or water across Texas.
"We are excited to see our GovTech solution deployed so rapidly to address such a critical piece of the economic recovery (rental / mortgage assistance). The incredible ability of the McLennan team was on display working through the weather disruptions, as well as the resiliency of our cloud solutions built on Mendix."
- Michael Guido, CEO - Kinetech
The Easiest Way to Modernize Your Process and Decrease Your Departments Workload:
With a full solution possible in a matter of weeks, organizations may quickly implement a low-code solution that is easy to use, improves personalized service, and nearly doubles throughput. Most clients see a 100% return on investment or more in the first 12-months, meaning the solution pays for itself.
This approach provides several other key benefits:
Digital allows email notifications or text (SMS) to be sent throughout submission and review process for better customer service, which also helps reduce incoming call volume
Multi-lingual (English, Spanish and More) are available to help diverse populations apply for service in their native language thereby communicating more effectively with your department
Standardized reporting is compliant with federal mandates and makes data easier to compile
Compliance for grant funding requirements (CARES Act, CBDG, LiHEAP, etc.) is easier to verify and enforce and eligibility can be checked as applicants are submitting information
Does not require you to hire any additional support staff and reduces the workload on existing staff by up to 70%
Improves public relations by getting the applications in people's hands faster and making them easy to process
Quickly digitizes your process (away from paper) for the 21st century
Release originally published at: http://www.prweb.com/releases/mclennan_county_waco_texas_selects_kinetech_to_accelerate_the_digital_transformation_of_emergency_housing_assistance_program_for_covid_response/prweb17767613.htm
About GovTech:
The GovTech Cloud is a government's innovation engine. Using Kinetech's lowcode templates, any paper-based process can be digitized to support document upload, case management, automated notifications, reporting and analytics. Get your organization communicating with a single point of record. Deploy agile, secure, government specific technology cost effectively using the cloud. Improve the digital services provided to citizens through intuitive, always on solutions. Uncover trends with rich analytics. Typical use cases include Housing, Rental, Utility, Mortgage, and Internet Assistance.
About Kinetech:
Kinetech, a platform Mendix partner, is a provider of custom enterprise software, delivered through the cloud with a focus on improved business productivity. The company focuses on cloud, mobile, and integrated technologies that solve real client problems. Kinetech's service offerings are configured and integrated with other web services (APIs), platforms, and enterprise applications (CRM, ERP, HCM). The company delivers its offerings via internet browsers and on mobile devices. Kinetech designs, builds, and supports mission-critical applications, client/vendor portals, and modernizes legacy systems. Its cloud offerings include Digital Factory (Manufacturing), Kinetech PM (Construction / Project Management), GovTech (Government Technology) Cloud, and other bespoke solutions (Enterprise Cloud).