Nearly $1 Billion USD and over 320,000 Applications processed.
The Kinetech GovTech Cloud© built with

Mendix

went live in less than 30 days!
Distributed over two-thirds of funds ($404 million in 6 Months) unlocking the remaining $200 Million of the initial $622 Million allocated by congress
The Kinetech GovTech Cloud© was used for over 320,000 application submissions.
The multi-tenant GovTech solution supported 80+ partner organizations (Housing Assessment and Resource Agencies (HARA))
Supported 1300+ daily active users from the HARAs that processed the citizen submission requests for relieve funds.
Verified over 210,000+ US Postal Service deliverable addresses to determine eligibility and application routing
Imported over 7500 records from the City of Detroit on a legacy portal for duplicate verification and streamlined processing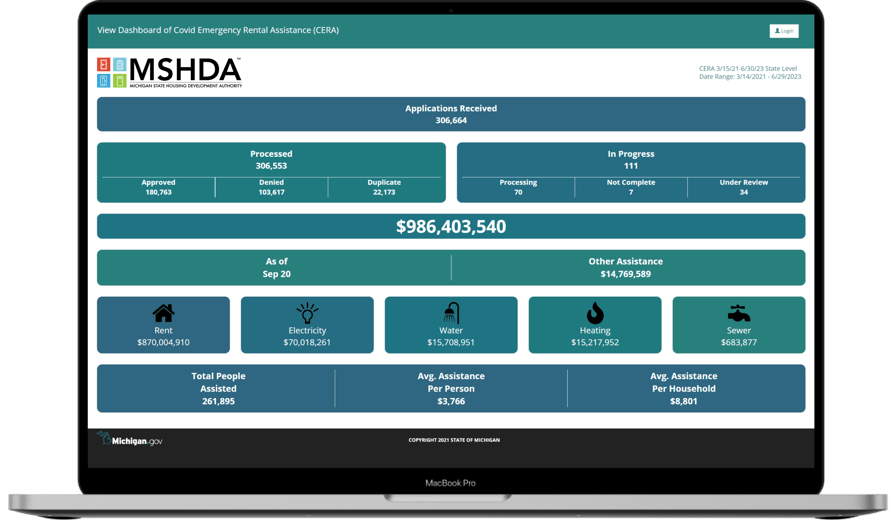 "Going into this, we did a lot of analysis and felt that the only way to do this effectively was with Kinetech and low-code. Ultimately, the results speak for themselves."
- M. Whitaker Director of IT at MSHDA
Michigan.gov - Michigan State Housing Development Authority (MSHDA):
The Michigan State Housing Development Authority (MSHDA), established in 1966, provides financial and technical assistance through public and private partnerships to create and preserve safe and decent affordable housing, engage in community economic development activities, develop vibrant cities, towns and villages, and address homeless issues.
With the Consolidated Appropriations Act (passed December 27, 2020), Congress established the $25 Billion USD Federal Emergency Rental Assistance Program (ERAP). For the state of Michigan, the initial allocation was for $660 Million in COVID relief funds to be distributed before the end of the calendar year. For the Michigan State Housing Development Authority (MSHDA) tasked with this undertaking, Urgency was paramount as 65% (~$429 Million) of the funds had to be allocated by September 30th, 2021 or risk losing the remaining balance.
M. Whitaker - Director of MSHDA IT speaking at Realize Live
Challenges:
In their efforts to streamline the application, eligibility determination, and relief distribution, Michigan.gov recognized some significant challenges. First, they needed to go-live quickly or risk losing out on an additional $200+ million allocated for their state and fellow citizens.
The problem was further complicated, as the State intended to leverage 80+ local Housing Assessment and Resource Agencies (HARAs) to manage cases and eligibility while following best practice guidelines in a way that could be easily reported to the Federal Government.
Second, determining eligibility while preventing fraud requires the tracking of complex and often sensitive data such as personal identifiable information (PII) such as addresses, identification, income / expenses and more. With sensitive data coming from multiple sources and various partners needing to be involved in the process, Michigan faced a manual, document-based process that was rigid and time-consuming. With the amount of money at stake, they were also wary of bad-actors / fraudulent behavior.
Additional challenges included training over 1500 Case workers remotely and migrating thousands of records over from Detroit as the city had attempted to stand up their own solution.
Ideally, their new solution had to:
Work across 3 operating systems (Windows, Android, and iOS)
Be intuitive so citizens / applicants could apply with little to no training
Use intelligent automation and publicly available APIs to route applications to the appropriate Housing Assessment and Resource Agencies (HARAs) based on zipcode / county
Be multi-tenant where each HARA could login and see the cases assigned to them (by county)
Centrally manage case worker access (i.e. identity access management and control)
Securely store encrypted PII data
Offer flexibility to add new partners without interruptions.
Provide live updates and application status via a self-service portal
Allow applicants to start, leave, return and complete applications at their leisure / as they are able to compile necessary information
Pass michigan.gov rigorous security standards
Provide user-management tools to delegate applications, roles, and assignments.
They selected the Kinetech GovTech Cloud to do so.
With an elite team of certified Mendix expert engineers, Kinetech offered the expertise and know-how needed to deploy and configure an all-in-one GovTech platform to bring all of the pieces together, delivering at a speed that only a low-code-powered solution can provide.
Solution: White-labeled Kinetech GovTech Cloud :
Working hand-in-hand with MSHDA subject matter experts and IT teams, Kinetech configured our GovTech Cloud to meet the needs of every stakeholder in the process. The application went live in less than 30 days.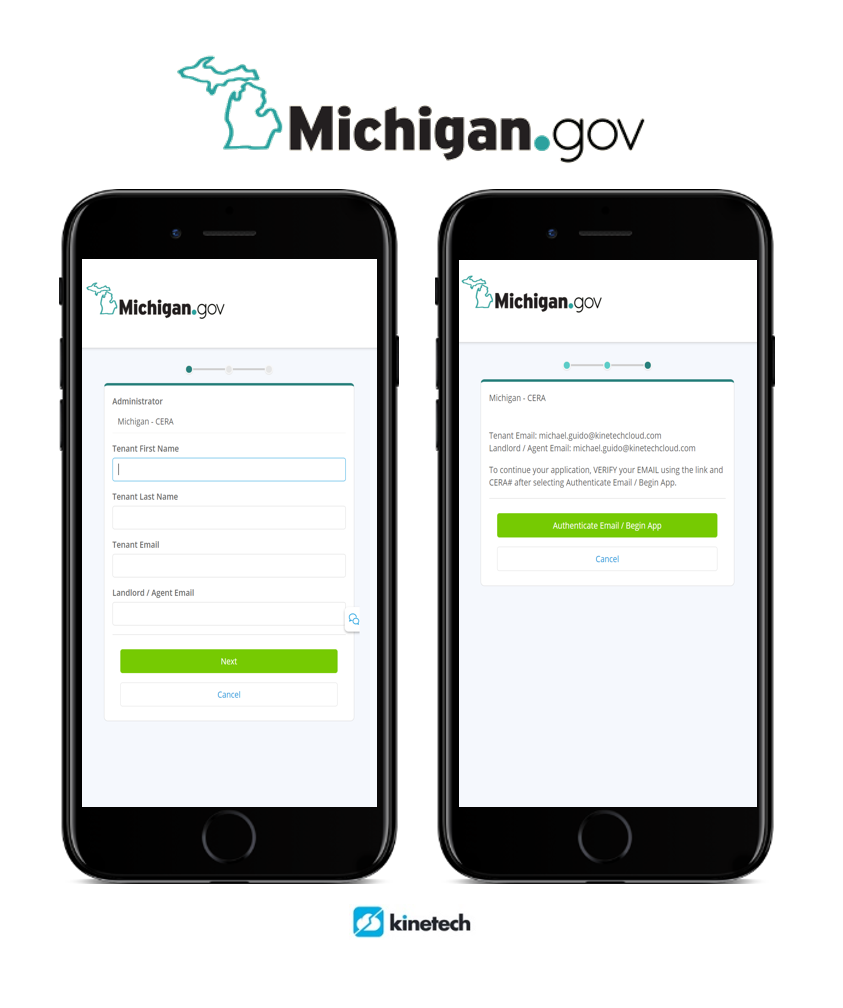 Applicants or landlords kickoff the application by providing the tenants name, email and the landlord / contacts email using the screens above.
Michigan selected Kinetech's GovTech Cloud™ to deploy a multi-tenant, device agnostic, mobile-first web scale solution that intuitively guides applicants (residents of Michigan) through the application process.
Once complete, the submissions are automatically sorted by an algorithm that considers zip code (validated against a US Postal service API) and county. The algorithm then considers weights determined by Michigan (i.e. 65% to one HARA, 35% to another) to assign the case to the appropriate agency.
Once assigned, caseworkers may review for completeness, determine eligibility, request more information, or reject / approve. Automated notifications keep applicants informed of their status in real-time, whenever the application reaches key milestones in the review / approve process.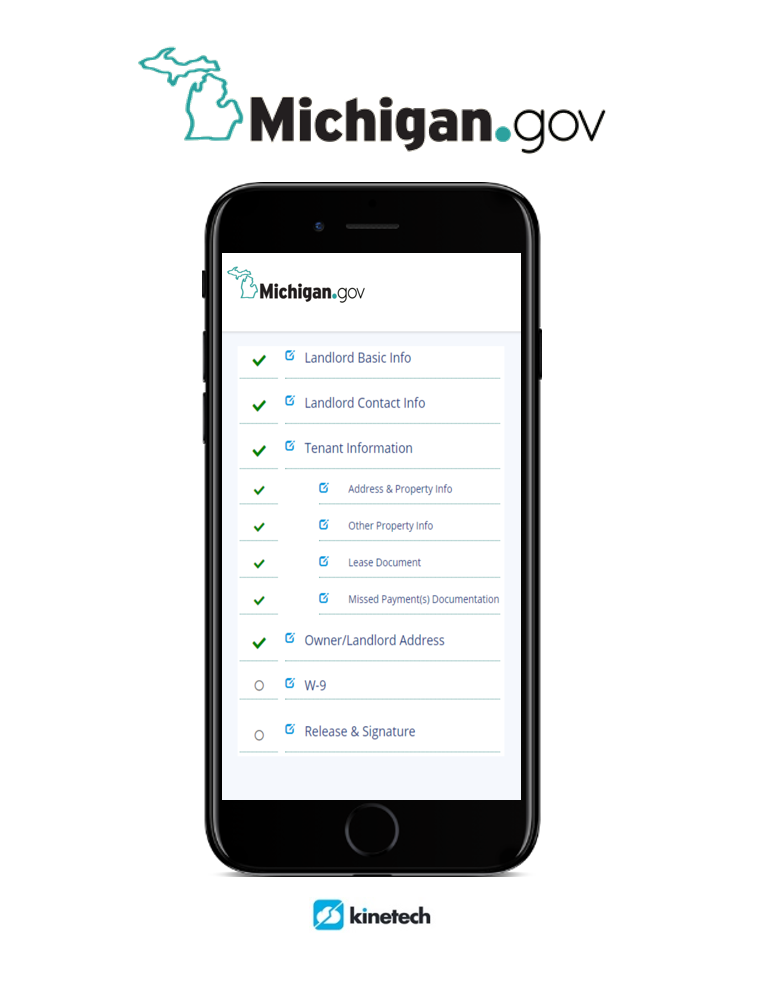 Kinetech's GovTech Cloud™ configured for the State of Michigan's CERA requirements.
The Kinetech GovTech Cloud™ is built with Mendix low-code and runs a PostGresSQL database hosted in the Mendix / AWS Cloud.
Outcomes of Project & Success Metrics:
Distributed over $985+ Million USD in aid
Assisted over 260,000 Residents
Delivered under budget and ahead of schedule
Won recognition for the state for being in the top 10 nationwide
Unlocked an additional $360 Million for the state, generating a 1000%+ return on investment
"We are excited to partner with the Michigan State Housing Development Authority (MSHDA) and the Department of Technology Management & Budget (DTMB) to deploy the Kinetech GovTech Cloud to rapidly address the needs of Michigan's most vulnerable residents (those living within 80% of the Area Median Income (AMI)."
- Michael Guido, CEO of Kinetech
Extended Purchasing Program & Contract / Ride-Along:
For other states, municipalities, and agencies interested in digitizing their process, this contract contains a "ride along clause" permitting comparable use via clause 43. Extended Purchasing Program.
43.1 Upon written agreement between the State and Contractor, this contract may also be extended to:
(a) other states (including governmental subdivisions and authorized entities);
For more information about leveraging this contract for your organization, please contact Kinetech directly at: (844) 546-3832 or https://www.kinetechcloud.com/contact/
View the Kinetech GovTech Cloud in Action:
Read more about the official program here:
About GovTech:
The GovTech Cloud is a government's innovation engine. Using Kinetech's lowcode templates, any paper-based process can be digitized to support document upload, case management, automated notifications, reporting and analytics. Get your organization communicating with a single point of record. Deploy agile, secure, government specific technology cost effectively using the cloud. Improve the digital services provided to citizens through intuitive, always on solutions. Uncover trends with rich analytics. Typical use cases include Housing, Rental, Utility, Mortgage, and Internet Assistance.
About Kinetech:
Kinetech is the leading developer of Low-Code, cloud-native, digital experience, automation, and core systems software applications for the financial, industrial, and public sectors. With over 10 years of Mendix implementation experience, the highest concentration of advanced Mendix developers in the United States, and the strongest track record of customer success, you can be confident partnering with us on your most important modernization initiatives. Our composable service offerings are configured and integrated with other web services (APIs), platforms, and enterprise applications.
Data & Privacy:
This application is hosted on the AWS Cloud. All data is geographically located in the continental United States. All data is owned by the State of Michigan and will be retained for a minimum of 5 years. Data will only be shared with Housing Assessment & Resource Agencies (HARA) partners to determine there is no duplication of benefits. Any personal identifiable information (PII) will be encrypted using industry standard AES encryption. All applicants and case workers must Multi-Factor Authenticate (MFA) using a valid email address. The application is inaccessible if your device cannot establish a secure HTTPS / SSL connection.