San Antonio, Texas - April 30, 2020
As the COVID19 pandemic forced municipalities into economic lock-down with forced shelter in place orders, Edward Gonzales, the Director of San Antonio's Neighborhood & Housing Services Department (NHSD) had a problem. As businesses began a tough round of furloughs and layoffs he knew his department had to act fast. Between the 3rd and 4th week of March NHSD saw applications for rental, mortgage, utility, and relocation assistance skyrocket from roughly 57 / week to over 2000. The applicants are composed from San Antonio's most vulnerable residents, those living within 200% of the federal poverty line or roughly $25-40 / person / day.
"To assist governments looking for rapid, secure, and scalable solutions, Kinetech & Mendix are partnering to give any government a free trial of the platform for 90 days. Kinetech is offering affordable configuration packages to get departments up and running as quickly as 14 days. " - M. Guido | CEO - Kinetech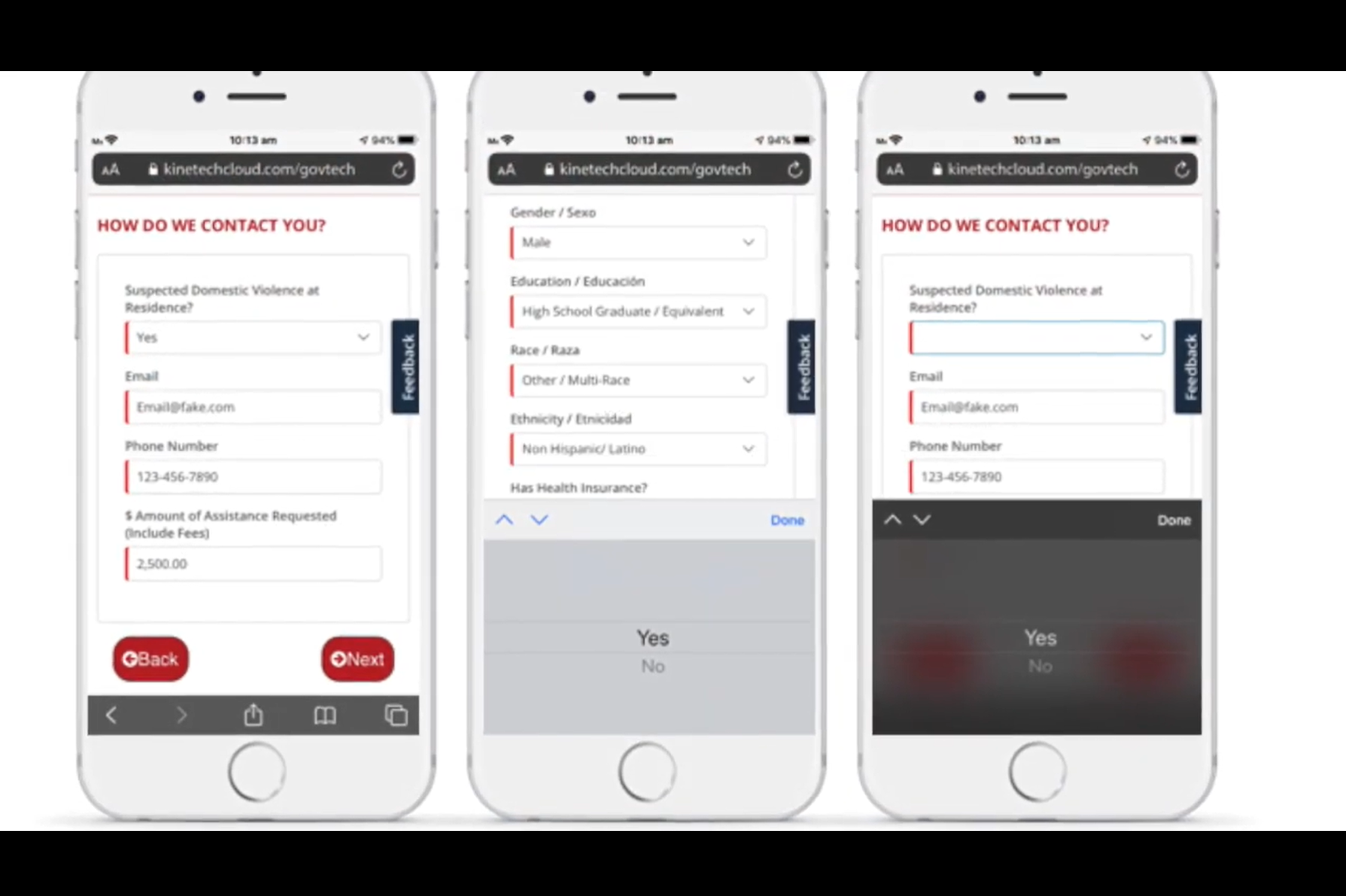 With physical distancing restrictions in place, applicants could no longer deliver their submissions to NHSD without putting themselves and the city's case workers at risk. The process required caseworkers to individually contact each applicant, determine eligibility, issue the application, then process it once the applicant returned it with supporting documentation. With the drastic volume increase, the program, personnel, and funding was increasingly being strained.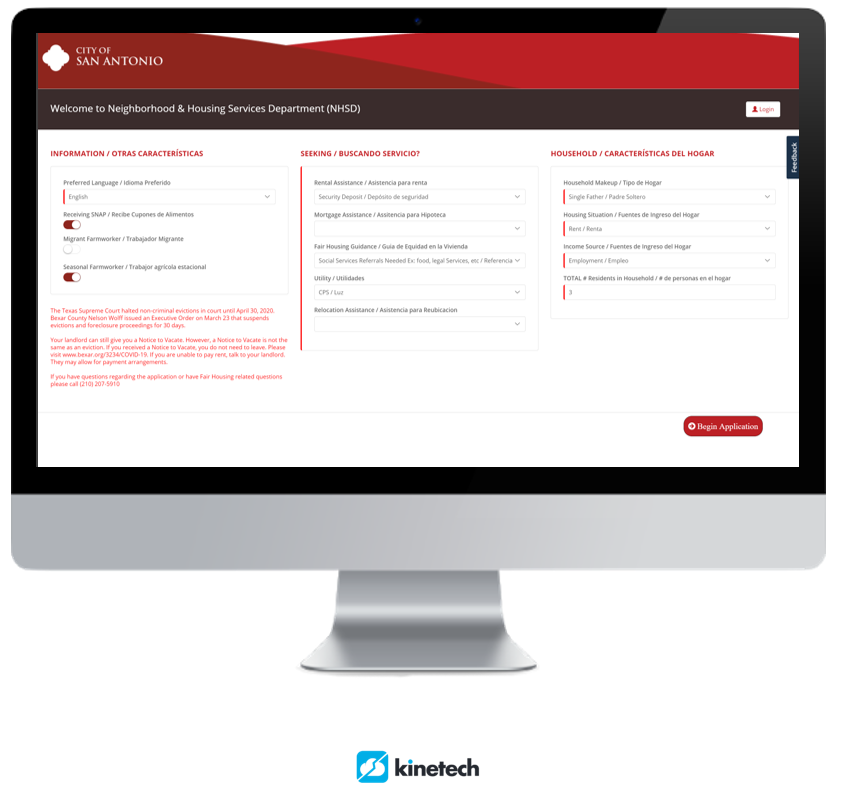 GovTech - Housing Assistance by Kinetech.
A responsive web-scale application built on the Mendix Platform to assist San Antonio residents seeking rent, mortgage, utility, and relocation services.
Fortunately, leaders began to take action. The Texas Supreme Court halted non-criminal evictions in court until April 30, 2020. Bexar County Nelson Wolff issued an Executive Order on March 23 that suspended evictions and foreclosure proceedings for 30 days. On April 3rd the city passed an emergency amendment granting the department the funds to deploy a cloud-based solution to replace the paper process. They turned to Kinetech, a low-code expert and Platform Mendix partner who delivered a digital Utility Credit Application for the city in 2018.
"When the COVID19 pandemic began impacting the city, I became concerned we may receive a deluge of applications as workers were laid off or furloughed. During the third and fourth week of March, it became clear my concerns were becoming a reality,"
- Edward Gonzalez, Director NHSD.
Kinetech sprang into action immediately, working over the Easter Weekend to deliver a beta-release just seven days later (April 10th). By April 15th, the application went live at 11:04 pm Central time. By 10:00 am the next morning, applicants had started over 1100 applications, averaging nearly 100 / hour or one application per minute. City leaders have expanded the funding available for rental, mortgage, and utility assistance to $14 million to address the rising need.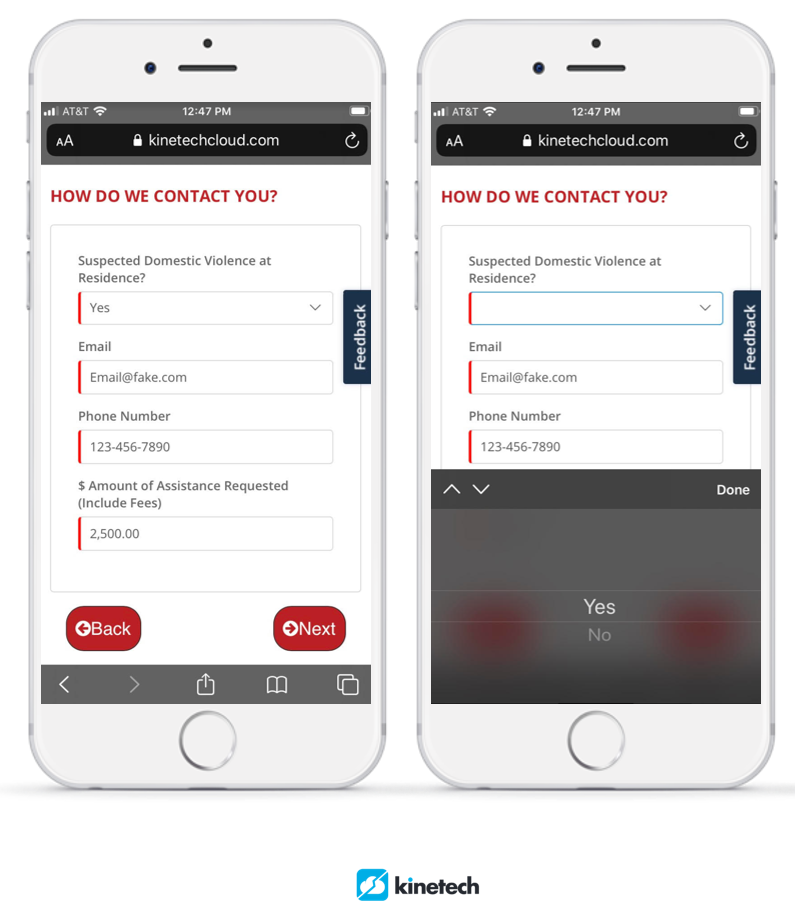 Through Kinetech's strong relationship with the City, our business engineers were able to quickly understand the challenges San Antonians are facing and develop a bilingual (English / Spanish) solution to serve our most vulnerable citizens (those living within 125% of the federal poverty line up to 80% of the average median income (AMI)).
"The application is also responsive and mobile-first, in an effort to further bridge the digital divide municipalities face when residents do not have easy access to the internet or a computer. We deployed a minimum viable product in eight business days using low-code, co-developing with the city's business and IT teams every step of the way," - Michael Guido - CEO, Kinetech.
"Mendix's low-code platform allows us to execute our outcome driven approach to quickly collaborate, build, deploy, and remain agile every step of the way, even after residents started using the app. Our mission is to serve as a transformative catalyst for good, through our people and work. We were honored to support such a mission critical solution for our hometown. It would not have been possible without the close coordination and trust of city leadership, our elite engineers, and our technology partner Mendix. I was very impressed with the agility of the city and all the personnel we worked with. Everyone rose to the occasion while collaborating remotely in a very challenging environment over a holiday weekend. It really demonstrates how public / private partnerships can drive transformational change with the right team, focus, and effort." said Michael Guido, CEO of Kinetech.
The city selected Kinetech because of our expertise in rapid application development, agile software processes, systems integration and Mendix - the leading low code software development platform. Kinetech is a Platform Partner of Mendix, the highest designation conferred by the company because of our low code "center of excellence. Kinetech's leadership team were some of the earliest Mendix employees in the United States until they spun off Kinetech to enable organizations looking to adopt the technology. Kinetech was recently ranked as a Top Systems Integration company globally by Clutch, an independent ratings firm.

The responsive Kinetech web application adjusts to the users screen size to create a seamless experience across device type & operating system with one code-base to reduce maintenance.
Applicants in need of assistance may access the application at: https://dhs.mendixcloud.com/p/Kinetech/GovTech/HousingAssistance
Fight the Pandemic:
To assist governments looking for rapid, secure, and scalable solutions, Kinetech & Mendix are partnering to give any government a free trial of the platform for 90 days. Kinetech is offering affordable configuration packages to get departments up and running as quickly as 14 days.
To contact Kinetech about COVID emergency assistance workflow applications (Rent, Utility, Mortgage, loans, etc) please contact: https://www.kinetechcloud.com/contact/
To learn more about Kinetech's GovTech solutions visit: https://www.kinetechcloud.com/govtech
About Kinetech
Kinetech, a platform Mendix partner, is a provider of custom enterprise software, delivered through the cloud with a focus on improved business productivity. The company focuses on cloud, mobile, and integrated technologies that solve real client problems. Kinetech's service offerings are configured and integrated with other web services (APIs), platforms, and enterprise applications (CRM, ERP, HCM). The company delivers its offerings via internet browsers and on mobile devices. Kinetech designs, builds, and supports mission-critical applications, client/vendor portals, and modernizes legacy systems. Its cloud offerings include Digital Factory (Manufacturing), Kinetech PM (Construction / Project Management), GovTech (Government Technology) Cloud, and other bespoke solutions (Enterprise Cloud).
About Mendix
Mendix, a Siemens business and the global leader in enterprise low-code, is fundamentally reinventing the way applications are built in the digital enterprise. With the Mendix platform, enterprises can 'Make with More,' by broadening an enterprise's development capability to conquer the software development bottleneck; 'Make it Smart,' by making apps with rich native experiences that are intelligent, proactive, and contextual; and 'Make at Scale,' to modernize core systems and build large app portfolios to keep pace with business growth. The Mendix platform is built to promote intense collaboration between business and IT teams and dramatically accelerate application development cycles, while maintaining the highest standards of security, quality, and governance — in short, to help enterprises confidently leap into their digital futures. Mendix's 'Go Make It' platform has been adopted by more than 4,000 leading companies around the world.