Policy holders today expect instant access to policy information and quotes. Paper-based processes are slow and opaque, frustrating you and your policy holders. With smarter mobile insurance apps emerging every day, current customers will soon realize there are easier and faster ways to find and renew insurance policies.
Introducing a cloud-based application that:
Builds new business by making the quoting and insuring process happen nearly instantaneously
Creates a single portal for policy renewals, automatically handling reminders and payments
Allows policy holders to manage existing policies and renew instantly through the application
Protects your brokerage by reading and verifying client identify information instantaneously.
A lot of firms talk about digital insurance products, Kinetech actually lets you try it for yourself. The solution below is configured specifically for Homeowners Association (HOA) insurance, but can easily be configured to work for other policies (i.e. reinsurance, claims management, specialty insurance, etc).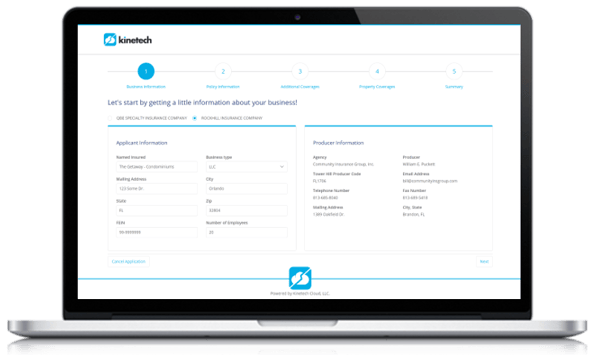 In under two weeks, you can have a customized insurance application that creates a single, transparent line of communication with your current policy holders and attract new ones.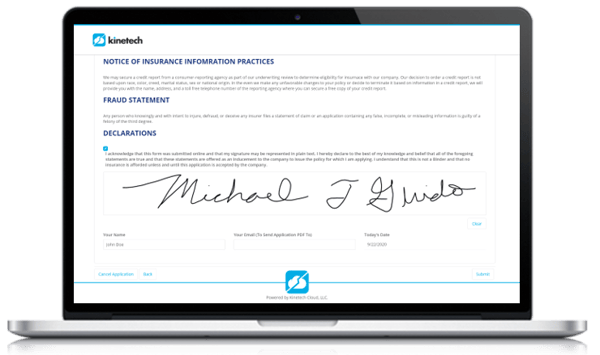 The application eliminates paper applications and allows clients to submit everything through their phone or desktop computer, including proof of identity. This makes the quoting and insuring process happen nearly instantaneously.
The new system is designed to take as much burden off policy holders as possible:
For clients that have multiple properties requiring policies, users can save information to their profile and avoid filling out the same information for individual property policies.
Applications can autofill business names, addresses, phone numbers and other already verified information.
All policies are easily accessible and managed through a dashboard.
Policies can be electronically signed, eliminating faxing and other cumbersome processes.
The solution also helps your brokerage. By creating an easy renewal process that could be completed through mobile devices a higher percentage of existing business will be effortlessly retained. In addition, the app creates a self-service portal that cut down on paper processes and significantly reduced salesmen's time spent helping customers because processes are much easier.
Contact Kinetech sales about this solution, learn more about digital disruption in the insurance industry, or explore Kinetech's insurance offerings.