City of San Antonio Deploys Financial Assistance App to Accelerate the Distribution of Funding Relief to Citizens Impacted by Coronavirus Pandemic
Seventh-largest U.S. city saw applications for rental, mortgage, utility and re-location assistance spike ~3,400% as a result of pandemic related economic lockdown
San Antonio successfully accelerates digital screening application to facilitate $25 Million in funding for most vulnerable residents creating a playbook for other municipalities
Low-code template from Kinetech enabled application process to be fully digitized in less than two weeks; removing physical barriers
Kinetech & low-code platform partner offering a free 90-day software license to city, state, and local governments around the world facing similar challenges
SAN ANTONIO – The City of San Antonio, Texas, has deployed a comprehensive digital Housing Assistance solution, using Kinetech's low-code Government Technology (GovTech) template, to accelerate the screening, notification, and delivery of much-needed emergency housing aid to citizens impacted by the coronavirus pandemic.
"Everything we have done with low-code solutions has delivered on the promise. As opportunities for digital platforms arise, we lean toward the low-code platforms. Part of it is planning for the workforce of the future – we need to pivot the tools we use to make ourselves relevant for new generations of developers and the tools and delivery methods they understand."
Kevin Goodwin - CTO, City of San Antonio
The new application brings the entire process online for rental, mortgage, utility, and relocation assistance, replacing a time-consuming manual process. Less than a day after deployment, residents initiated over 1,100 applications via the new app; during peak demand, the application has handled intake of more than 3,000 applications in a single day. Based on current allocations, the City of San Antonio's Neighborhood & Housing Services Department (NHSD) will process, approve, and distribute more than $25 million in emergency assistance via the new app.

The Responsive Solution has one (1) code-base that adjusts to all Internet Connected Devices and Operating Systems (iOS, Android, Windows, etc).
San Antonians' need for financial housing assistance spiked rapidly in March when the pandemic triggered state-wide shutdown orders, causing widespread furloughs and layoffs. Applications for assistance increased from an average of less than 60 per week to over 2,000 per week. With the drastic volume increase, the program, personnel, and funding was increasingly being strained. Fortunately, leaders began to take action. The Texas Supreme Court halted non-criminal evictions in court until April 30, 2020. Bexar County issued an Executive Order on March 23 that suspended evictions and foreclosure proceedings for 30 days. On April 3rd the city passed an emergency amendment granting the department the funds to deploy a cloud-based solution to replace the paper process.
The city selected Kinetech because of their expertise in rapid application development, agile software processes, systems integration and Mendix - the leading enterprise low-code platform. Kinetech is a Platform Partner of Mendix and was recently ranked as a Top Systems Integration company globally by an independent ratings firm.
App deployed and relief funds flowing in less than two weeks
On April 23rd, council voted to increase the size of a proposed $16 million program to $25 million, allowing eligible residents to request money to cover housing, medicine, groceries, fuel and utilities, including Internet access.
"When the COVID-19 pandemic began impacting the city, I became concerned we may receive a deluge of applications as workers were laid off or furloughed. During the third and fourth week of March, it became clear my concerns were becoming a reality,"
Edward Gonzales, Assistant Director NHSD.
"As we faced a global pandemic and the increasing volume of applications for housing assistance, we knew that there was a better way to keep up with the demand of processing applications," said Edward Gonzales, assistant director for the City of San Antonio's Neighborhood & Housing Services Department. "We had previously worked with Kinetech in 2018 to build a utility assistance application for the city, so they already had the right security credentials, tools, skill-set, and agile processes in place to build this application.
"Within 12 days, the two-person development team built the new application and successfully deployed it. In less than a week, more than $2.2 million in assistance was requested. With the help of Kinetech and Mendix, our process is now fully digital, and our case workers can quickly provide feedback and help prevent residents from becoming homeless."
Process fully digitized, plus additional benefits
With physical distancing restrictions in place, applicants could no longer deliver their submissions to NHSD without putting themselves and the city's case workers at risk. The process required caseworkers to individually contact each applicant, determine eligibility, issue the application, then process it once the applicant returned it with supporting documentation, which often presented a challenge. Eligible applicants fall within 125% of the federal poverty line and 80% of the average median income (AMI) and do not always have access to personal transport or printers / photocopiers to submit required documentation. The new solution addresses this by allowing applicants to submit photos using their personal devices (over secure and encrypted connections) eliminating the cost of printing supporting documentation (utility bills, lease agreements, government IDs, etc).
"Everything we have done with low-code solutions has delivered on the promise," said Chief Technology Officer, Kevin Goodwin of the City of San Antonio. "As opportunities for digital platforms arise, we lean toward the low-code platforms. Part of it is planning for the workforce of the future – we need to pivot the tools we use to make ourselves relevant for new generations of developers and the tools and delivery methods they understand."
Michael Guido, CEO of Kinetech, said, "Through Kinetech's strong relationship with the City, we were able to quickly understand the challenges San Antonians are facing and develop a bilingual, English-Spanish solution to serve our most vulnerable citizens. The application uses responsive design, so it works well on any kind of device — phone, tablet, or computer — which can help bridge the digital divide for residents who have limited access to the internet. We deployed a minimum viable product in eight business days, co-developing with the city's business and IT teams every step of the way.
Free 90-Day License to Municipalities
Recognizing the need of other local jurisdictions to provide emergency assistance to their citizens in the United States, Kinetech and low-code partner Mendix are offering a free, 90-day license of its development platform to government agencies around the world facing similar challenges, so they can quickly build and deploy their own solutions to help citizens in need. Kinetech will provide discounted expert development services and templates to accelerate time to value.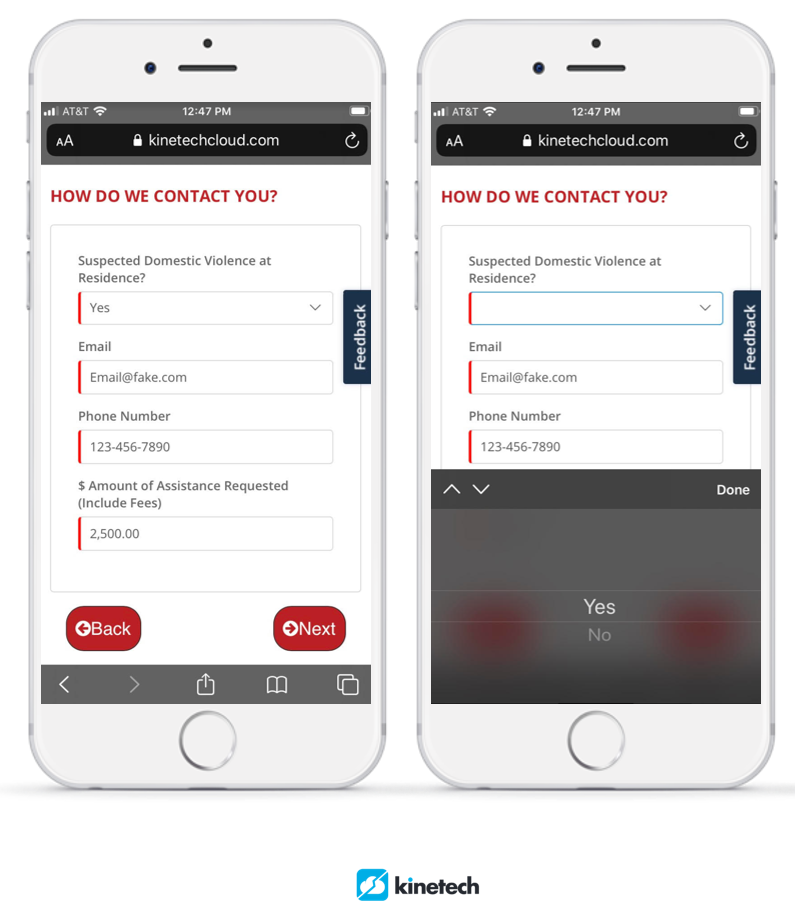 San Antonio's Digital Housing Assistance Solution Rendering on Mobile Phones demonstrates Responsive Solution.
Mendix's low-code platform offers the public sector fast and secure ways to build a variety of applications to better serve people including:
Workflow portals to request and demonstrate need for financial assistance
Native mobile solutions with features such as offline access and biometric identification
Automated communication tools to increase service while reducing in-person and phone interactions
Data aggregation and reporting to support business decisions around poverty eradication
To claim a free 90-day license or contact Kinetech about COVID emergency assistance workflow applications (Rent, Utility, Mortgage, loans, etc) please contact: https://www.kinetechcloud.com/contact/
To learn more about Kinetech's GovTech solutions visit: https://www.kinetechcloud.com/govtech
Connect with Kinetech
About Kinetech
Kinetech, a Mendix Platform partner, is a provider of custom enterprise software, delivered through the cloud with a focus on improved organizational productivity. The company focuses on cloud, mobile, and integrated technologies, using low-code / Mendix, that solve real client problems. Kinetech's service offerings are configured and integrated with other web services (APIs), platforms, and enterprise applications (CRM, ERP, HCM). The company delivers its offerings via internet browsers and on mobile devices. Kinetech designs, builds, and supports mission-critical applications, client/vendor portals, and modernizes legacy systems. Its cloud offerings include the Digital Factory (Manufacturing), Kinetech PM (Construction / Project Management), GovTech (Government Technology) Cloud, and other bespoke solutions (Enterprise Cloud).
About Mendix
Mendix, a Siemens business and the global leader in enterprise low-code, is fundamentally reinventing the way applications are built in the digital enterprise. With the Mendix platform, enterprises can 'Make with More,' by broadening an enterprise's development capability to conquer the software development bottleneck; 'Make it Smart,' by making apps with rich native experiences that are intelligent, proactive, and contextual; and 'Make at Scale,' to modernize core systems and build large app portfolios to keep pace with business growth. The Mendix platform is built to promote intense collaboration between business and IT teams and dramatically accelerate application development cycles, while maintaining the highest standards of security, quality, and governance — in short, to help enterprises confidently leap into their digital futures. Mendix's 'Go Make It' platform has been adopted by more than 4,000 leading companies around the world.
Press Inquiries
AJ Emmanuel
Director of Sales
aja.emmanuel@kinetechcloud.com
(844) 546-3832
Related Story: https://www.prnewswire.com/news-releases/city-of-san-antonio-deploys-financial-assistance-app-to-speed-relief-to-citizens-impacted-by-coronavirus-pandemic-301058003.html