The term "big-data" has become as ubiquitous as "the cloud" in recent years, but what does it mean for your business? Forrester defines big data as, "practices and technologies that close the gap between the data available and the ability to turn that data into business insights." At Kinetech, we specialize in this practice.
Construction Industry
Job sites are a treasure trove of data waiting to be unlocked. The real value lies in making that information available to all stakeholders in real time. Kinetech PM does just that. Our fully integrated solution allows an owner to walk a job site (alone or with the General Contractor) with their iPhone and report items or issues of concern. These items are cataloged for the Project Manager to review and address to ensure no item gets overlooked. Punchlist items work the same way.
By having an avenue for the owner to express their concern (and know that the GC is aware) is a great starting point for collaboration. For the GC this brings value as well because they no longer have to document each individual item pointed out by the owner (or owner rep). This sharing of responsibility and slight transfer of documentation increases trust on a job site and improves collaboration. By having a status on each item, management can also log in and ensure each project is running smoothly without having to search through endless files.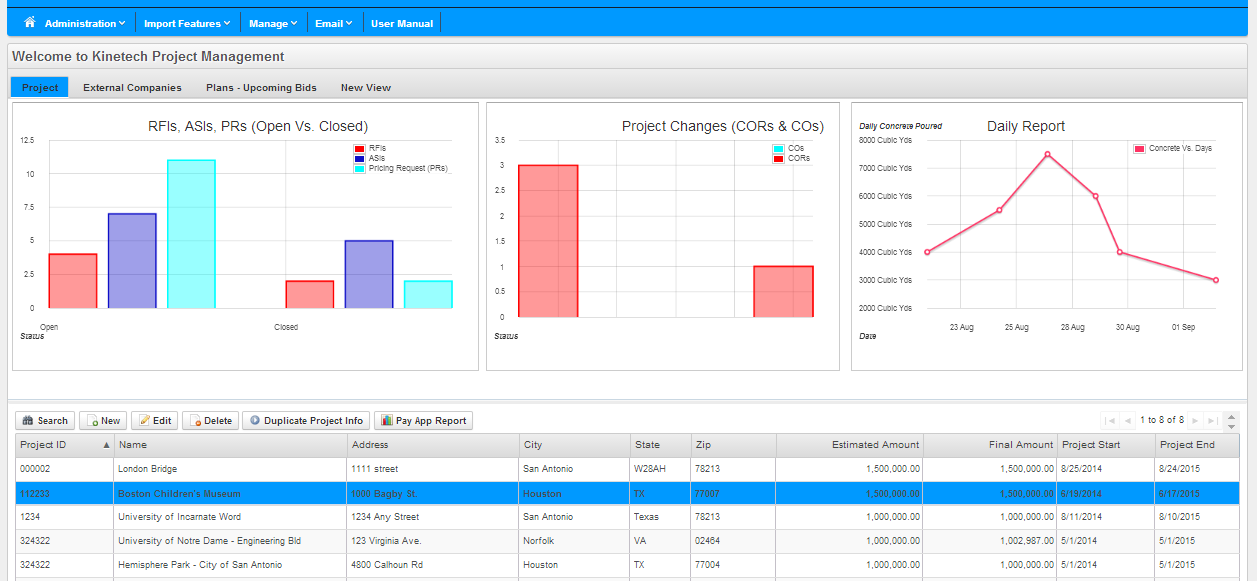 Internal Human Resources
A key component to achieving success is hiring the right personnel. Often overlooked are the processes required to manage the team you've worked hard to build. With the Kinetech Portal, this operational overhead is reduced and standardized in a way that positions your business for growth.
With the Kinetech Portal you can: - Create standardized check lists for employees to complete during their initial on-boarding. - Have a centralized, web-based solution where employees can book hours. - Set goals, track performance, and have visibility into an employees track record. - Track performance and document annual reviews. - Manage customer relationships & track the sales cycle with our CRM
For employees, the transparent communication (and documentation) of expectations results in higher actual performance. After all, it is difficult to achieve a goal if you cannot measure it. For management, having this information at your finger tips allows you to more accurately assess the performance of your team (and organization).

These are just two examples where a small investment can have a huge ROI for small to medium sized businesses. Consider this, as your business grows leveraging software to handle the administrative tasks of one or two Full Time Employees (FTE) can reduce your taxes, reduce risk of lawsuits, and free up existing employees time to provide better service and support to your paying customers. Contact Kinetech today to see how we can transform your business potential into dynamic performance.