Kinetech is proud to announce the launch of our Mendix Client Enablement Practice. Our Practice is led by dual Mendix certified expert engineers and T3 (Train-The-Trainer) trainers. These unique qualifications bring decades of Mendix engineering expertise with educational excellence, further positioning Kinetech as a leading Mendix partner in the United States.
Our inaugural class of certified trainers includes Kyle Kunzer and Jon Lamb - both senior leaders within Kinetech's Enterprise Services team. Join us in congratulating our inaugural class of certified Mendix T3 Trainers!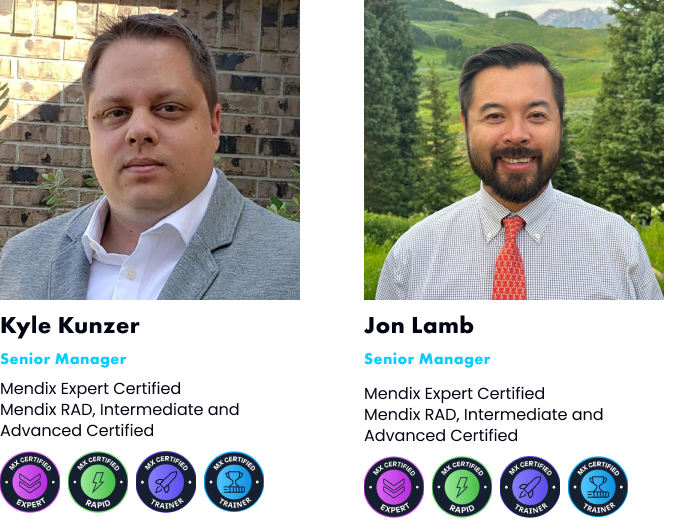 These certifications are not just badges - they are representative of the depth of our engineering expertise and underscore Kinetech's commitment to delivering unparalleled value to our clients. We do not just offer solutions; we empower organizations to achieve their digital goals on their own.
If you have made the decision to adopt Mendix, then you are on the right track. Adopting low-code is a critical step toward taking control of your digital roadmap by providing your organization with the tools it needs to achieve its digital transformation goals.
Partner with a Leader to Set Your Course:
The successful navigation of your journey to adopt Mendix low-code depends on selecting an enablement partner with the necessary enablement experience, technical expertise, and a proven track record of delivering custom solutions with Mendix.
"Kinetech has been a valued partner since 2014, initially serving as the first recognized, US-based Mendix Certified partner firm. They have significantly contributed to the adoption of low-code technology across North America. Additionally, they are one of the few firms in North America with active T3 certified trainers."



- Anne Antor, Americas Channel Leader at Mendix
As your enablement partner, Kinetech will adeptly guide your organization through the transformative changes related to the four pillars of enablement, often referred to as the 4 "P's": Process, People, Portfolio, and Partner. Most importantly, Kinetech will teach your team how to build custom solutions with Mendix, and thus lead the effort to establish your internal Mendix practice.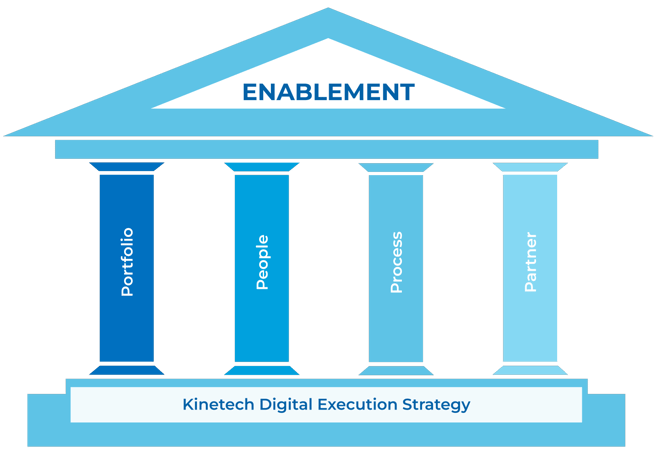 The Kinetech Digital Execution Strategy forms the cornerstone of our approach to the 4 P's. This comprehensive strategy ensures a smooth and coordinated transition from a buyer to a builder of custom software solutions with Mendix.
Kinetech's certified Mendix Expert Engineers and T3 Trainers will lead your team through the 4 phases of execution: Foundation, Start, Structure, and Scale. As you progress through each phase, you will encounter distinct challenges that require tailored strategies for resolution.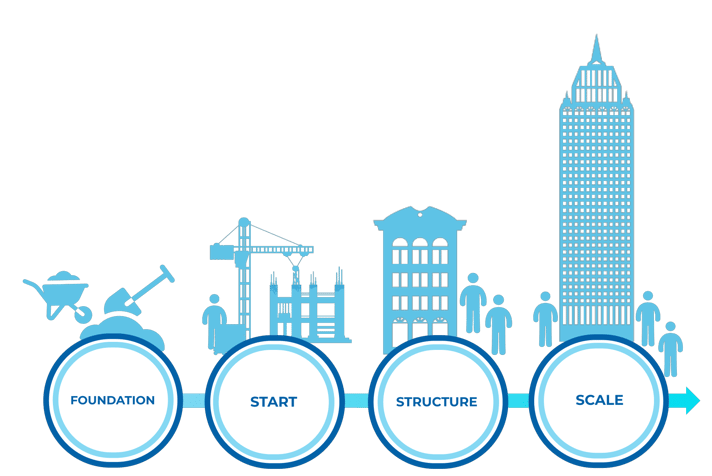 Establish a Strong Foundation

The first phase of execution is to establish the Foundation where we lay the groundwork to prepare for your journey to adopt low-code. We will establish the expectations of the team, and collaborate to define the scope of your Minimum Viable Product ("MVP"). Simultaneously we will assess your current quality standards, execution processes, and technical capabilities. Our certified trainers will also host initial Mendix RAD and Agile-scrum training during this phase.
During the Foundation phase, Portfolio and People are the key focus areas.
Start to Establish a Culture of Success
Next, we will transition to the Start phase of execution where our primary focus is to deliver the Minimum Viable Product ("MVP"). The MVP aims to generate positive internal recognition to garner support from the broader organization by addressing a highly visible and valuable challenge that is of moderate complexity. We will work together to create a well-defined scope for the MVP that provides a meaningful return on investment and ensures strong executive support and sponsorship.
Furthermore, we will implement essential execution frameworks and processes including Agile-scrum to ensure we operate in a disciplined and scalable manner. Our learning framework will guide our expert tutors as they engage with your development team, and execute our strategy to train and educate your team on industry best practices in application design, quality control, and execution.
While our primary focus is the delivery of your MVP, we will also host Mendix Intermediate training sessions and other training courses tailored to the specific needs of your team and MVP project.
During the Start phase People, Process, and Portfolio are our primary focus areas.
Structure the Organization for Expansion
After successfully delivering our MVP, we will transition from the Start phase to the Structure phase of execution. During this phase, we will align the organization with the long-term vision of the leadership team as well as prioritize the initiatives for the next several months. This involves expanding your development capacity by adding more teams and developers alongside our initial MVP team.
By this phase, the expectations of our team leads should be clearly understood among our teams, and your developers should be capable practitioners of the execution frameworks and processes established during the Start phase.
The Structure phase will also see the introduction of Mendix Advanced training, complemented by ongoing expert-level design reviews and coaching from our tutors. Our team will provide regular feedback to the development team and share progress updates with project sponsors to ensure all stakeholders are kept well informed. The constant oversight enables us to pinpoint topics and personnel that may require additional attention, and make adjustments to our approach as needed.

Throughout this phase, we will continue to rely on our competence-based learning framework to guide us as we determine the optimal timing to transition technical roles and responsibilities to your team.
During the Structure phase, People and Process continue to be our core focus.
Scale to Transform the Organization
The final phase of execution is Scale. During this phase, we will further expand the number of development teams, while your initial MVP team will transition into leadership roles. As a result, we will deliver higher-quality applications considerably faster. By this phase, all applications should be secure, scalable, maintainable, and performant.
Our focus in this final phase is to transition all remaining leadership roles of all your initiatives to your team. Then Kinetech will transition into the role of a strategic advisor, ready to assist with technical challenges as they may arise.
Your team is now poised for long-term success, thanks to our holistic approach encompassing the four P's of enablement: Portfolio, People, Process, and Partner. Together, we have built a strong foundation for your organization to build upon.
Why choose Kinetech to be your Mendix Enablement Partner?
Our Personalized Approach:

We employ a consultative approach to understand your long-term goal(s) / vision, objectives, resource constraints, and other unique factors when designing your enablement journey. Our strategy will always include elements that are consistent from organization to organization, but ultimately, every enablement journey is unique to the organization being enabled. After all, no two organizations are exactly alike. We will combine what we have learned to be most effective and critical to your success with the realities and challenges of your organization. Together, we will develop a personalized journey that ensures we achieve our primary objective: to establish a Mendix practice that is capable of delivering custom applications without long-term dependence on Kinetech.



Expert Led Enablement Practice:

When selecting an enablement partner it's important to verify that they offer actual enablement services. At Kinetech, we have a practice dedicated to client enablement services. We will design a unique enablement journey based on our expertise and your objectives. Then, we will implement our learning framework designed to transition responsibilities and knowledge to your team as fast and thoroughly as possible, with the goal of setting your team up for long-term success. That means a limited to no long-term dependency on Kinetech. The leads for our enablement practice are Certified Expert Mendix Engineers and Certified T3 Trainers. We take pride in being the only firm outside of Mendix, with Mendix-certified trainers in the United States.



Our Mendix Expertise:

Kinetech is one of the longest-tenured and most experienced Mendix channel partners in the United States. We have helped over 100+ organizations deliver hundreds of applications, including some of the most complex applications ever built on Mendix. Our Certified Mendix Expert engineers form the foundation of our Enterprise Services Team, and collectively our team has trained hundreds of developers over the years. Those Experts also serve as the leaders of our Enablement Practice.



Kinetech's

Digital Execution Strategy

:

Our digital execution strategy is proven, scalable, and built on decades of collective experience. It is not only what we bring to you, it is also a reflection of how we operate. Your team will benefit from the collective expertise of one of the most experienced Mendix partners in North America. Our strategy includes a set of delivery frameworks that are effective, repeatable, and scalable. We provide a holistic approach that expands beyond Mendix technical training and into process and execution, portfolio management, and other aspects of software development lifecycle management.

Our execution strategy is built on the 4 P's Enablement: Partner, Portfolio, Process, and People. Each of the 4 P's represents critical success factors and frameworks that we will implement at your organization and taken together ensure the successful transformation of your organization into a leading Mendix and low-code development organization.
Built on Proven Frameworks:

We will implement the frameworks representing the core pillars of our enablement practice. Those include:
Execution: Scrum is an agile framework that enables teams to incrementally deliver value collaboratively. It is a core execution framework that allows our teams to take on complex and dynamic custom software development projects. It is also agile in that it is an iterative approach to software development where the business and development team collaborate closely. Our team will serve as the delivery team's Scrum master, and also offer classroom and real-time Scrum training to your team.


Learning: An immersive and personalized learning framework that combines classroom training with hands-on "tutor" style training. Our curriculum is a combination of standardized Mendix assets and a custom curriculum relevant to your team, project, and technical challenges. It is predicated on competency-based learning where progression is determined primarily based on what our leaders observe. Our program is well-rounded and led by Certified Expert Mendix Engineers and Trainers.


Quality: A suite of testing frameworks to adopt based on your internal policies, expectations, and resources. We will work with your team to implement guidelines and best practices allowing us to ensure we deliver quality at scale.


Product: A portfolio and product strategy and prioritization framework to ensure a consistent, disciplined, and value-driven approach to evaluate new applications and functionality.


Center of Excellence: E

stablish a framework based on the core pillars of Governance, Standards, Architecture, and Tools / Methods. The COE should promote best practices, ensure proper oversight and governance of your team and app ecosystem, and foster a culture of knowledge sharing while still encouraging innovation. Establishing a COE will take time, but we should still work to understand and then begin to incorporate the fundamental principles early in your journey.