Discover the art of possible with Low-code, September 1st, 2020. Kinetech CEO will present a behind the scenes look at the groundbreaking work the City of San Antonio, the 7th largest city in the United States, did in response to the COVID-19 pandemic. As Congress considers another stimulus package with an additional $100 Billion set aside to prevent evictions resulting from the pandemic, municipal leaders can learn three tips to get relief funds into their constituents' bank accounts faster. The talk is called: "Distributing Critical Financial Aid and Making Citizen Life Easier with the City of San Antonio and Kinetech"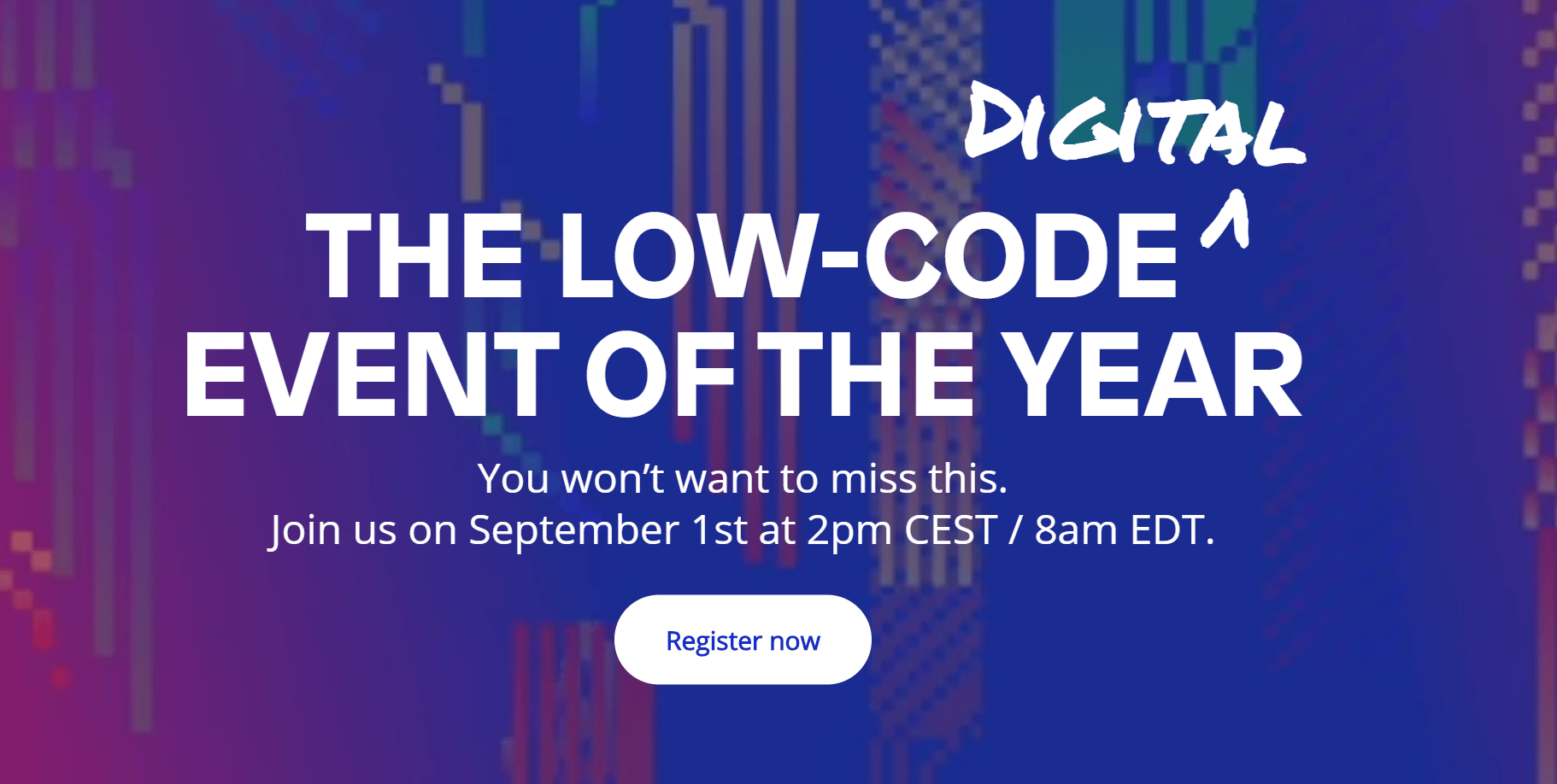 Background:
As the COVID19 pandemic forced municipalities into economic lock-down with forced shelter in place orders, Edward Gonzales, the Director of San Antonio's Neighborhood & Housing Services Department (NHSD) had a problem. As businesses began a tough round of furloughs and layoffs he knew his department had to act fast. Between the 3rd and 4th week of March NHSD saw applications for rental, mortgage, utility, and relocation assistance skyrocket from roughly 50-60 / week to over 2000. The applicants are composed of San Antonio's most vulnerable residents.
Traditionally applications were submitted in person and caseworkers contacted each individual to validate their information – steps that became near impossible in the wake of a global pandemic (i.e. the city staff had to maintain social distance and the existing process could not scale to the increased workload). In response, city officials acted quickly, partnering with Kinetech to develop a responsive web application that could scale while balancing speed and security.
Highlights:
The team developed an end-to-end solution in just 12 days using agile processes and the Kinetech Digital Execution Strategy to assist with each step of the process from intake to automated notifications to cash assistance disbursement
The team was composed of two Kinetech developers / business engineers and one product owner / business stakeholders from the City
The application is offering citizens greater transparency (via a public facing dashboard) and reducing processing times from a month to only a week
Since its creation, the app has helped the City to distribute over $39 million in emergency relief to San Antonio's most vulnerable populations, improving the citizen experience and keeping households afloat during a crisis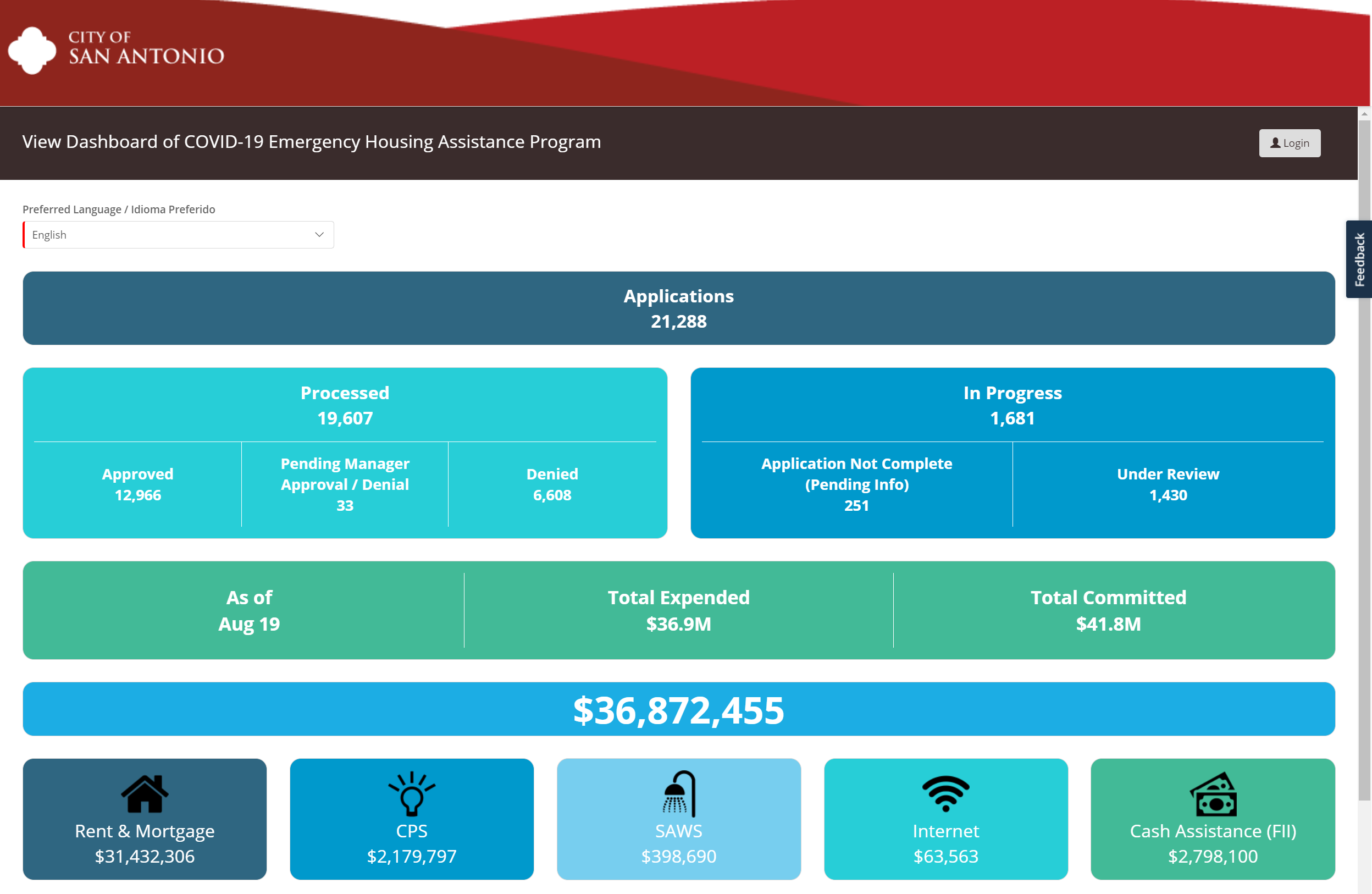 Screenshot of San Antonio's Emergency Housing Assistance Dashboard powered by Kinetech's GovTech Cloud.
About the Talk:
Edward Gonzales, Assistant Director of the Neighborhood and Housing Services Department, will provide some background about San Antonio, his department, and why the city invests to keep families in their homes. Michael Guido, CEO of Kinetech, will discuss the problem with paper using compelling diagrams from Hans Rosling's, Factfullness in addition to Three (3) tips every municipality should consider when working to implement similar solutions for Emergency Housing Assistance. The program's speed and success serves as a roadmap for other organizations looking to deploy emergency funds. For a limited time, Kinetech is also offering a complimentary e-book: Three Ways to Process Applications Faster for Public Administrators.
To watch the full talk, please follow these steps:
Find the: "Discover What's Possible" Sessions
Select: "Distributing Critical Financial Aid and Making Citizen Life Easier with the City of San Antonio and Kinetech"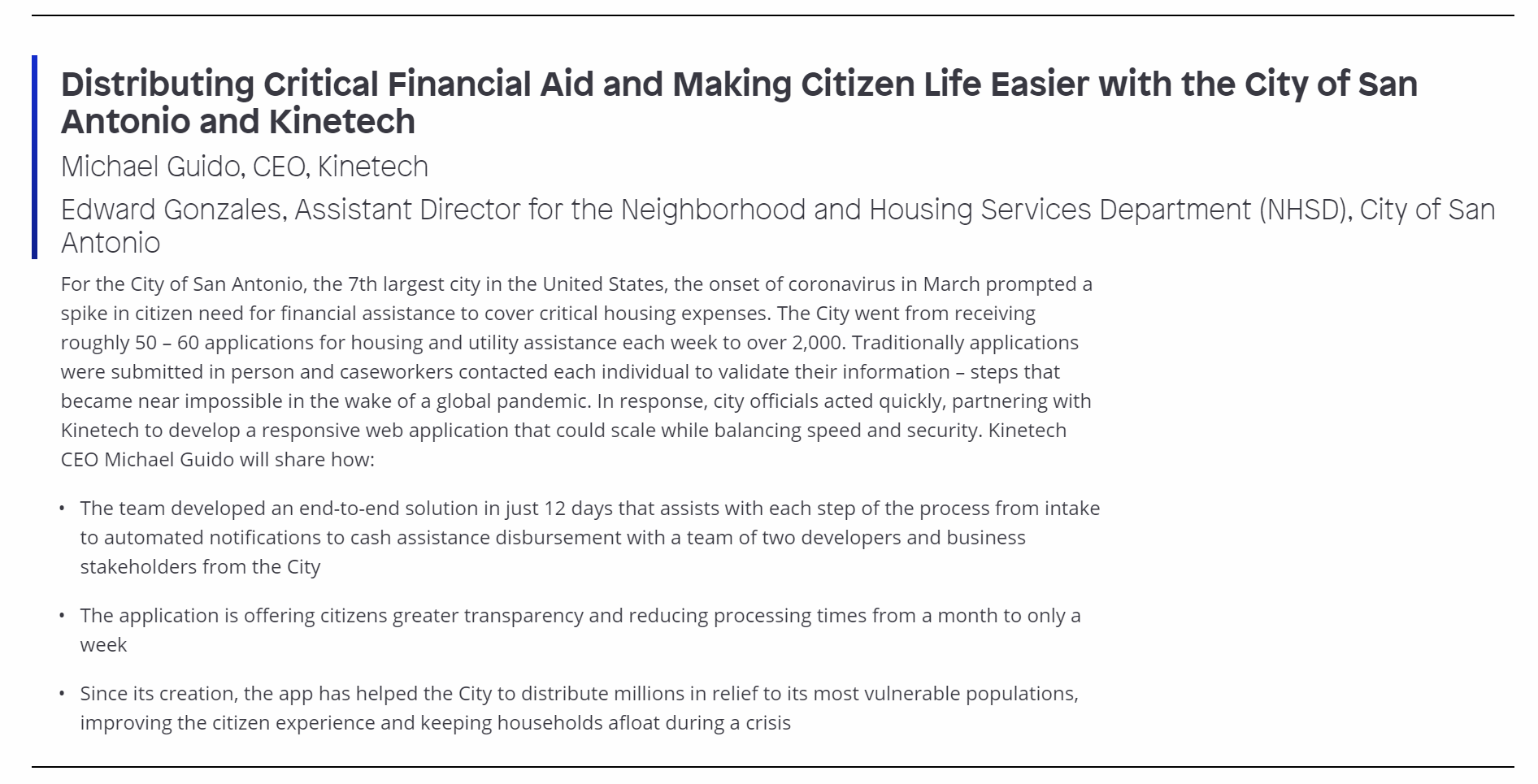 Registration for Mendix World is Free & can be completed here to have access to all the On-Demand Content.
This release also appeared on PR Web / Cision.