Mendix was recently recognized by Gartner as the leader with the most complete vision for Enterprise Low Code Applications. If you are new to Mendix, or researching if low code is right for your organization, here are 7 benefits your organization will realize if you invest in the Mendix platform.
1. The Mendix Research and Development team is constantly releasing new functionality to enable innovation at your organization. For example, the release of Mendix 8.1 makes it easier than ever to create Native mobile applications for iOS and Android.
Mendix 8.1 - Product Update Video, September 2019.
2. The Mendix platform, is built on three core principles: 1) Speed, 2) Collaboration, and 3) Control that will align with your business objectives. These core principles underpin the platform roadmap and manifest themselves in each innovative release by Mendix R&D. Here are a few examples.
Speed: Mendix was founded to remove the friction between business and IT by using a common language that technical and non-technical personnel could both understand. You have likely heard the saying a picture is worth a thousand words, in the case of Mendix, microflows (i.e. pictures) are worth hundreds of lines of (software) code. Quantitative Software Management (QSM), an independent research organization found Mendix projects were 6x faster than traditional development.
Collaboration: Teamwork makes the dream work. True breakthroughs come when people with diverse backgrounds, skills (IT), and ideas (business knowledge) work together. By using the visual models described above, combined with agile principles (user stories vs. requirements), the Mendix platform enables your organization to embrace product lifecycle management (PLM).
Control: For CIOs and CTOs, having control over an organization's infrastructure is critical to ensure service level agreements (SLAs) are met, security protocols are followed, performance is monitored and maintenance costs are understood. Menxix supports microservice architectures, whereby IT can manage the entire application portfolio of autonomous and integrated applications allowing professionals to manage risk.
3. The Siemens acquisition of Mendix in 2018, ensures the long term viability of the platform empowering you to think long term. Why? As a 170 year old powerhouse with a fortress balance sheet, Siemens has the ability to strategically plan for the long term. At Mendix World, CEO, Derek Roos confirmed Siemen's commitment for Mendix to remain industry agnostic while ramping up investment to accelerate the product roadmap. Last week, Derek and Siemens announced, "that Mendix will become the primary application platform for all Siemens Cloud Solutions, giving customers the powerful capability to create apps and share data on any device, anywhere, on any cloud." Put simply, Siemens is all in on Mendix and lowcode.

4. Cloud-native, open architecture means you are investing in change, not a point solution. Business changes fast and consumers are fickle. Investing in point solutions virtually guarantees obsolescence in three to five years. With Mendix, you are investing in a platform that embraces change, allowing your software to evolve with your business.

5. Product Lifecycle Management (PLM) is embedded in the tool. If your organization is serious about beginning a digital transformation, then it is critical you become proficient at Product Lifecycle Management (PLM). This is easier said than done, but will ultimately be the difference between success and failure of your initiative.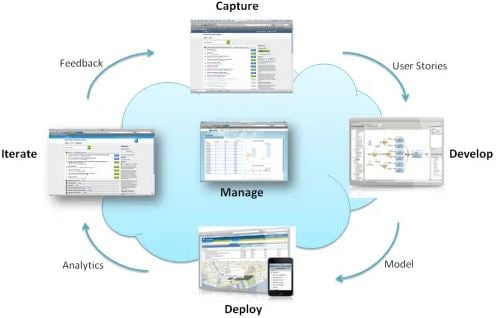 The Mendix Platform supports full Product Lifecycle Management (PLM).

6. One code base for device agnostic applications. Should you develop for Android (more potential users) or iOS (typically more affluent customer base)? There are tradeoffs to either decision and if you attempt both, you are committing to managing multiple code bases which is costly. Or you could invest in Mendix so your team can manage one code-base, and work across device types and platforms. When considering the total cost of ownership, this is a key point many potential customers overlook.

7. A vibrant partner community to support your specific needs. When you invest in a Mendix license, you are joining a vibrant partner community of 90,000 developers and multiple partner firms dedicated to ensuring your success. Learn why Kinetech is the best Mendix Partner to help with your digital transformation.